January 28, 2013
Why Continuing Care Retirement Communities?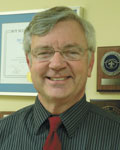 By Bob Morrison
Development Director of Ridgecrest Village
Passionate Lifestyle Testimonies! – Part 1
"Life is like a mirror. You get the best results when you smile at it," said Ollie Gallaher. "Well, that describes so many happy, upbeat people here at Ridgecrest Village. We no longer have concerns over who to hire to fix the roof or appliance, replace the furnace, shovel the snow or mow the lawn."
Ridgecrest Village is the oldest and most established Continuing Care Retirement Community (CCRC) in the Quad-Cities area. Many do not understand the benefits of adapting to a senior lifestyle as they grow older. Hopefully, they will learn to share their years of experience with other energetic adults in a healthy (and fun) environment.
When asked about their lifestyle, several residents at Ridgecrest Village offered actual lifestyle experience in this healthy and secure environment. Read on; you might enjoy their message!
Ollie Gallaher continues, "We are so glad we decided to move to a cottage while we were still able to make our own decisions. We made lists of all of our expenses if we stayed at home, and all of the expenses that would be covered by a move here. There was little difference. Those expenses were not even counting the unknown, if one or both of us should end out in a nursing home, and for how many years. Our savings could have soon been eaten up."
George and Ollie have four children, who live all over the map. They said, "This was one of our main reasons for the move. We did not want to become a burden on any of them. They have busy lives of their own. We have long-time friends here, and enjoy local activities. With e-mail and cell phones, and visits when they can, we keep in very close touch. Our daughter in New York says her friends are so jealous of her. They are being run ragged caring for details of their folks' lives, and have had little luck with encouraging them to move to a retirement home with long-term care."
A CLOSE FAMILY ENVIRONMENT
"We gained a whole new FAMILY on a lovely campus," wrote Lorma Marcue. "We are as active as we care to be including: Daily activities planned for us or bus rides into the community for theater, symphony, shopping, picnics, eagle watching, etc. There is no need to write voluminous checks to survive; but only one monthly bill."
We use athletic equipment, sit-n-be-fit classes to keep our body healthy; Wii bowling and golf for fun and competition. A brain-fitness computer keeps our brains active. A full-time Chaplain holding Bible studies, caregivers help, and weekly worship in our chapel."
On campus, we have a General Store for everyday needs, a Café for that cappuccino pickup or snacks and gift items. Also, we enjoy the Sing-along, Tone Chimes, band practices, revelers, informative guest speakers, and free popcorn. Our staff shares in our "family" feeling and shows it by going out of their way to help us wherever they can!"
INDEPENDENT APARTMENT LIVING
Don and Ellie Arp share, "a multitude of reasons why my wife, Ellie, and I love and enjoy living at Ridgecrest Village: Our life here is virtually worry-free. A full time Nurse takes care of our small medical problems in Independent Living. A full time Chaplain looks after our spiritual needs. Inter-denominational worship services are every Sunday morning in our Koning Chapel. The attached Health Center is here for us if needed."
A board of directors of local community leaders meets monthly at Ridgecrest for decisions concerning the residents. They know us, and are not in some far-off out-of-state location. Our Resident's Council, consisting of 12 committees, continually works to resolve any concerns or suggestions that a resident might have."
Our administrative staff has an open door policy. A full time dietitian and professional chef see to it that we have a balanced and healthy menu, properly prepared, everyday. A full-time maintenance crew keeps all our equipment in working order. A full time refurbishment crew literally moves doors and walls to make your cottage or apartment just the way you want it.
These are just a few of the many reasons that make Ridgecrest Village "The Premier Retirement Facility" in the Quad Cities – Nobody does it better!!!!"
Like Ridgecrest Village, 82% of CCRCs are not-for-profit. This residential alternative for adults, usually 62 or older, provides flexible housing options, a coordinated system of services and amenities, and a continuum of care that addresses the varying health and wellness needs of residents as they grow older. The CCRC model enables residents to avoid having to move outside the community."
INDEPENDENT COTTAGE LIVING
Loren & Rosemary Burken live in a cottage. "We chose Ridgecrest because it was the most financially feasible place for providing us a home for the rest of our lives. Here we can go from independent living to assisted living or to skilled nursing care without incurring big additional expenses. This gave the two of us and our four boys the freedom of knowing we would be well taken care of regardless of what the future might bring.
Ridgecrest offers many additional services to make our life more enjoyable. Loren said, "I had back surgery in December after we moved in. I was able to have therapy right here at the Crest Health Center. Three years later, I had a hip replacement. Since I couldn't put any weight on my right leg for six weeks, I was given an electric power chair to use the entire time, and they built a temporary ramp at our cottage so I could go to the main building for my meals and other social activities."
We have been at Ridgecrest almost five years, and every day we are so thankful we made the decision to move here. The friendly residents and staff truly make Ridgecrest Village a wonderful place to call home."
Cottages at Ridgecrest range from 600 to 1700 sq. ft; most with attached garages. Their landscaping, maintenance, house cleaning, utilities, and satellite TV are all included in the low monthly rent. New floor coverings, appliances, and fresh paint colors are offered to help your new environment feel like your home!
THREE TYPES OF MOVE-IN PLANS
Do I have to give a lot of money up front to move into Ridgecrest? No. The "Fee-for-service" Option [1] is offered by nearly all retirement communities. This is simply a monthly rental fee, sometimes with a security deposit and/or a community fee to cover program expenses, move-in costs, or document fees. Charges vary depending on the amount of service provided.
Option [2] offered by the most stable CCRCs is called "Life Care". This plan gives security to an individual or couple by protecting against higher costs of most future medical accommodations. An entrance fee provides a priority room with the appropriate level of care in Assisted Living, Memory Care, or Full Nursing Services, should they be needed, without raising monthly rates, except for additional meals. This is particularly beneficial for a couple when one of them needs the extra service but the other does not. They pay only the same low independent monthly cost even though they live in separate areas and receive different amounts of care.
Option [3] is a Modified contract or "Refundable Entrance Fee" option. Should your medical needs require Assisted Living or Full Nursing Care, eighty percent (80%) of your Entrance Fee is refunded and you receive a 10% discount for higher level care. You have the same priority room privilege enjoyed by the Life Care option. Many prefer this plan as they have long-term care insurance and/or would rather be in control of their finances.
Filed Under: Retirement
Tags: Bob Morrison, Care Retirement Communities, Care Retirement Community, Ccrc, Continuing Care Retirement, Continuing Care Retirement Communities, Continuing Care Retirement Community, Development Director, E Mail, Energetic Adults, Furnace, Gallaher, Little Luck, Long Term Care, Long Time Friends, Nursing Home, Ollie, Quad Cities Area, Retirement Home, Shovel
Trackback URL: https://www.50pluslife.com/2013/01/28/why-continuing-care-retirement-communities/trackback/