February 26, 2013
March – In Like a Lion and Out Like a Lamb…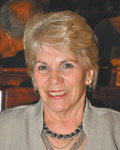 By Eloise Graham
Or is it the other way around? I remember learning this little "fact" of predicting March's weather. It seems to be as good as any other way to determine the weather a month out. And, I would say this statement is accurate… at least 50 percent of the time. So, when I think of March, I think of lambs and lions. That said, I thought it was interesting to find out that March 1 is considered National Pig Day. There must be an animal theme in there somewhere.
The month of March is Women's History Month. This year's theme is, "Women Inspiring Innovation Through Imagination." Over 200 years ago, First Lady Abigail Adams said, "If particular care and attention is not paid to the ladies, we are determined to foment a rebellion, and not hold ourselves bound by any laws in which we have no voice or representation." There are still some issues today that affect women, and they have very little say in them.
Other March themes are: Cataract Awareness Month; Nutrition Month; Chronic Fatigue Syndrome Awareness Month; Feminine Empowerment Month; Music in Our Schools Month; Poison Prevention Awareness Month; Colorectal Cancer Awareness Month; Irish-American Heritage Month; and Red Cross Month, to name a few.
Some interesting dates and facts in the month of March –
3/1/1872 – President Ulysses S. Grant signed into existence the world's first national park, Yellowstone National Park. These 2.2 million acres of wilderness was "set apart as a public park or pleasuring ground for the benefit of the people." Nathaniel Langford was appointed the first superintendent of the park.
3/2/1962 – Wilt Chamberlain, playing for the Philadelphia Warriors, scored 100 points in one basketball game. It was a 169 – 147 win over the New York Knicks.
3/3/1931 – The "Star Spangled Banner" became the National Anthem. The words are from a poem written by a 35-year-old lawyer, Francis Scott Key, after witnessing the bombardment of Fort McHenry by the British Royal Navy during the Battle of Fort McHenry in the War of 1812. It was set to music and soon became known as a great patriotic song. However, it wasn't until 1931 when President Woodrow Wilson made it the National Anthem by congressional resolution.
3/7/1876 – Alexander Graham Bell patented the telephone. His first successful transmission of speech was on March 10, 1876. In August of 1876, he makes the first long distance call, about six miles Brantford, Ontario and Paris, Ontario in Canada.
3/12/1912 – Juliette Gordon Low started the first Girl Scout group in Savannah, Georgia. The group had 18 girls. The Girl Scouts became a national organization and was chartered by the U.S. Congress on March 16, 1950.
Filed Under: Featured, History
Tags: Abigail Adams, Basketball Game, Cancer Awareness Month, Cataract Awareness Month, Chronic Fatigue Syndrome, Francis Scott Key, Irish American Heritage Month, Music In Our Schools Month, Nathaniel Langford, National Pig Day, New York Knicks, Nutrition Month, Philadelphia Warriors, Poison Prevention, President Ulysses, Prevention Awareness, Star Spangled Banner, Ulysses S Grant, Wilt Chamberlain, Yellowstone National Park
Trackback URL: https://www.50pluslife.com/2013/02/26/march-in-like-a-lion-and-out-like-a-lamb/trackback/