February 26, 2013
Max's Musings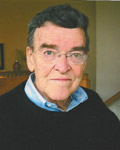 By Max Molleston
Over the years, I have enjoyed relating how we are, sometimes with the poetry, and often with some of my own thoughts. I am fairly sure the column for April will begin my ninth year. During that time, you and your writer have done some maturing. Are we wiser than we were? I think so. Many of us have retired from our years of earning a living. That takes me to one poem that tells us where we are, or where we might be, giving us some direction. The poet Dennis O'Driscoll, who died last year, was featured inside the cover of the February issue of Poetry, a key publication about poems and poets. First published in Poetry in 1999, this poem takes me where I think we 50+ers need to be.
Tomorrow I will start to be happy.
The morning will light up like a celebratory cigar.
Sunbeams sprawling on the lawn will set
Dew sparkling like a cut-glass tumbler of champagne.
Today will end the worst phase of my life.
I will put my shapeless days behind me,
fencing off the past, as a golden rind
of sand parts slipshod sea foam from solid land.
It is tomorrow I want to look back on, not today.
Tomorrow I will start to be happy; today is almost
yesterday.
For those of us who have lived a great portion of our lives, there is a need to go on. The poem is excellent advice. It is a posture we can seek almost all the time, desired as we gain experience, emotional and otherwise. "I will put my shapeless days behind me," the poet tells us. As 50+ers, we need to "right our ship" and put those shapeless days behind. Rhoada and I manage that, out of desire and necessity. Our grandchildren, a few minutes away, enter our lives regularly and, when sick, are cared for by grandma in our home, in Coralville. We also join others, mostly in our 70s and 80s, in an exercise class, 45 minutes long, three days each week. We find happiness in our physical health through the exercise, and with our social aspects, at coffee (maybe some sweets) following our toil.
Our spring season in this geography should unfold, marvelously, this month and next, showing us "sunbeams sprawling on the lawn." Questions may revolve around rainwater for our trees and shrubs. We also wait for the beautiful blooms that arise from our bulbs each Spring, and the annual flowering plants we acquire to brighten our lives. Please join me in April, when life we know and love sparkles for us "like a cut-glass tumbler of champagne."
Filed Under: Personal Growth
Tags: Cigar, Coralville, Cut Glass, Driscoll, Earning A Living, Exercise Class, Fencing, Gain Experience, Geogr, Glass Tumbler, Grandchildren, Musings, Physical Health, Poet Dennis, Posture, Rind, Sea Foam, Social Aspects, Spring Season, Toil
Trackback URL: https://www.50pluslife.com/2013/02/26/max%e2%80%99s-musings-42/trackback/