February 26, 2013
When a Relative Gets Alzheimer's, See an Attorney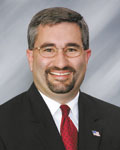 By Curt Ford
Nash Nash Bean & Ford
When a loved one gets Alzheimer's or another form of dementia, it can be overwhelming if he or she has not planned ahead and acquired power of attorney documents and an estate plan. However, the reality is that most people do not have these advanced plans in place, and once Alzheimer's sets in, it's too late to get them. That does not mean that you, as the responsible family member, cannot do anything to take care of things.
The first thing you need to do, is to talk to an attorney experienced in Probate matters. As Alzheimer's progresses, your loved one with the disease will become more and more incapacitated and unable to handle his or her own affairs. Someone needs to be legally able to handle the finances and the health care decisions. The way to go about this is to petition a Probate Court for Guardianship. An attorney can help make the process faster and easier on you.
The attorney can also help you throughout the guardianship in determining what to do and in fulfilling your responsibilities. A guardian has legal duties that must be fulfilled. You do not have to handle them all by yourself, and you shouldn't. Talk to an Estate Planning attorney, who knows how to handle them all. That gives you the ability to focus on the most important thing: the care of your sick loved one.
Nash Nash Bean & Ford are members of the American Academy of Estate Planning Attorneys and the National Academy of Elder Law Attorneys. To receive a copy of our most recent newsletter, "Your Estate Matters," or for a free consultation on Estate or Long Term Care Planning, call (309) 944-2188, (309) 762-9368 or 1-800-644-5345. You may also contact our firm by email at info@nashbeanford.com or visit our web site at http://www.nashbeanford.com.
The firm devotes its practice primarily in the areas of estate, business and tax planning and related areas of the law, as well as elder law and trust administration and probate. We offer guidance and advice to our clients in every area of estate planning.
Filed Under: Family, Health & Wellness
Tags: Alzheimer, American Academy Of Estate Planning Attorneys, Bean Ford, Dementia, Elder Law Attorneys, Email, Estate Business, Estate Planning Attorneys, Family Member, Free Consultation, Health Care Decisions, Long Term Care, Nash, National Academy Of Elder Law Attorneys, Power Of Attorney, Probate Court, Probate Matters, Responsible Family, Tax Planning, Trust Administration
Trackback URL: https://www.50pluslife.com/2013/02/26/when-a-relative-gets-alzheimer%e2%80%99s-see-an-attorney/trackback/