February 26, 2013
Why Continuing Care Retirement Communities?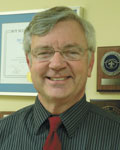 By Bob Morrison
Development Director of Ridgecrest Village
Passionate Lifestyle Testimonies! – Part 2
Ridgecrest Village is the oldest and most established Continuing Care Retirement Community (CCRC) in the Quad-Cities area. Many do not understand the benefits of adapting to a senior lifestyle as they grow older. Hopefully, they will learn to share their years of experience with other energetic adults in a healthy (and fun) environment.
When asked about their lifestyle, several residents at Ridgecrest Village offered actual lifestyle experience in this healthy and secure environment. This month we continue with part two or our retirement community lifestyles testimonials.
LIFE CARE OPTION
Jerry and Dee Fuller moved to a cottage from a retirement village in Venice, Florida. "We watched as our friends grew older and needed help with every day life. Some were a thousand miles from their families. We decided it was time to look for a safe, secure place to spend the rest of our years."
The Fullers wrote, "We came to Davenport on vacation during the summer of 2007 and decided to check out the Ridgecrest Campus to see what they had to offer. Vickie Bell took us on a tour of Ridgecrest and explained the benefits of Life Care. That's all it took to convince us that we belonged here. Probably the biggest factor in deciding to move to Ridgecrest was the knowledge that our daughter would not have to care for us the rest of our life. We could live independently with no worries as to whatever the future holds for us."
"How do we like Ridgecrest?" Per Jerry and Dee, "Well, we are about to celebrate our first anniversary here, and we are very pleased with everything (except the cold winter weather). The dining room always offers a choice of at least three entrees, and the food is very good, no complaints. We enjoy having transportation furnished to banks, stores, doctor appointments etc., free of charge. The companionship, the activities, and the games all contribute to the great life here at Ridgecrest."
CONTINUING CARE RETIREMENT COMMUNITIES-PEACE OF MIND
Don and Phyllis Morrison owned a home in Clear Lake, Iowa. They shared, "We loved it there and planned to live there forever. When Don participated in the Honor Flight of the Quad-Cities trip to Washington, DC, in November 2008, we were given a tour of Ridgecrest Village. We were impressed, but we were just not ready to think about moving. Shortly after thinking about a doctor visit, we made the greatest decision of our lives, to move to this fantastic retirement facility, which included guaranteed services for our lifetime."
Don continued, "The benefits of living in Ridgecrest Village have been appreciated and enjoyed every day since we moved here. This is a huge facility, with almost 400 happy and friendly residents and around 200 caring employees that make certain our needs are satisfied at all times. We enjoy active independent living with the knowledge that should our health become a problem, we could quickly be taken care of in our assisted living and/or our skilled nursing care quarters. We have excellent meals prepared by a skilled professional chef. In over two years, we have never had a meal we did not enjoy. Volunteer activities keep us as busy as we want to be. We have an exercise room, a woodworking shop, a beauty shop, many card games, and I am in charge of Wii games, with a four team bowling or golf tournament once a month."
ASSISTED LIVING ENJOYMENT – THE CONTINUIM OPPORTUNITY
Jeanne Nissen transitioned to Assisted Living in Oakwood Place. Jeanne said, "My husband and I moved to Ridgecrest Village to a cottage in 1973. We enjoyed that type of living. Myron had his own woodworking shop, and I had my kitchen and freezer. We both enjoyed the outdoors and our
outdoor plantings and berry bushes."
Jeanne continued, "When the time seemed right, we moved to a lovely apartment in Terrace. Myron was close to the Ridgecrest woodworking shop. I still had a kitchen and was close to my volunteer jobs. After Myron passed away, I could get help if I needed it. As I felt a need for more help, there was Oakwood Assisted Living, where I am enjoying the accommodations, caring assistance, and three meals a day. I know that if the time comes for me to go to Crest (the Health Center), I will still be with my Ridgecrest family."
SO HAPPY
Lila Kuehl said, "Although I didn't want to leave the home my husband and I shared for 25 years, it was time for me to make a change. I realized I could no longer do things like cleaning gutters and shoveling snow."
Lila continues, "I had several friends living at Ridgecrest, who enjoy their lifestyle here, and they encouraged me to move. I truly enjoy the companionship and the many opportunities to meet people. You can be as busy and involved at Ridgecrest as you want to be. There are many volunteer options. Each gives you the opportunity to meet people.
My children are happy I'm here. They appreciate the responsiveness of the Ridgecrest staff—from changing a light bulb to flipping the mattress. I enjoy reading books from the library, looking for "new" items at the village Resale Shoppe, and learning how to play several card games, especially Pinochle. I am so happy and grateful I decided to come to Ridgecrest."
WORRY-FREE LIVING
Bertha Conger says, "We were completely independent for 15 years in a cottage. When we needed the Health Center, it was ready to meet our needs immediately. It was worth a great deal to have a complete meal prepared for us every day, seven days a week, for all these years."
The dining room is lovely. I could read a book all day and not worry about cooking dinners or getting the housework done, because I knew it would be done by our Ridgecrest housekeeper. We adore maintenance. There is no need for me to nag Lonnie about indoor or outdoor work. They take care of any big or little task. I'd say it's the easiest retirement living in the world."
Bertha continues, "It's the most wonderful, easy retirement living anyone could ask for! We truly love living in Ridgecrest Retirement Village. Everyone is kind and caring."
ENJOY THE ACTIVITIES
What's so great about Ridgecrest?" Tom Kalshoven sums it up very nicely: "It's the people here. The residents and the staff make a happy family, which sincerely cares for one another."
Tom and his wife Mary have lived at Ridgecrest for over eight years, loving every minute. "We are completely independent, yet closely knit in the fabric of community life. The best part is that we chose to come to Ridgecrest at a young enough age with good health, so that we could take full advantage of the wide-ranging programs and services." Tom often tells people that they shouldn't wait to make the move.
Continuing Care Retirement Communities (CCRCs) provide an attractive lifestyle option that has been around for decades nationally, but since the mid-1980s has dramatically evolved. These retirement campuses are especially attractive to seniors making decisions for their long-term care future. Their new lifestyle allows seniors to convert home equity or other assets into housing and to receive daily activities, living services and health care in ways that keep monthly expenditures more stable. Residents at Ridgecrest Village enjoy the comfort of knowing three basic levels of service are available in the same convenient location: Independent Living, Assisted Living, and Full Nursing Care.
No matter which entrance plan is chosen at Ridgecrest Village, the CCRC gives the most care options, takes away unwanted moving hassles, and builds a level of security and peace of mind for both the resident and their family. As we look in the mirror, it smiles back at us all!
If you would like more information on Ridgecrest Village and Continuing Care, contact Bob Morrison or Mary Huebbe at (563) 388-3271 to take a tour and make yourself at home.
Filed Under: Community, Retirement
Tags: Bob Morrison, Care Option, Care Retirement Communities, Care Retirement Community, Ccrc, Cold Winter Weather, Community Lifestyles, Continuing Care Retirement, Continuing Care Retirement Communities, Continuing Care Retirement Community, Development Director, Doctor Appointments, Energetic Adults, Fullers, Quad Cities Area, Rest Of Our Life, Retirement Village, Secure Place, Thousand Miles, Venice Florida
Trackback URL: https://www.50pluslife.com/2013/02/26/why-continuing-care-retirement-communities-2/trackback/