March 31, 2013
In and Out of the Quad-Cities – An American Tale
Contributed by Gail McPike and Toni Hall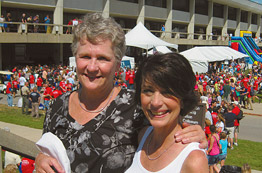 Normally this monthly journal serves as a tool for spinning stories and heralding our personal adventures. But this month, we decided to take a slightly different turn. Oh, we could have devoted precious ink to trips, plays, parties, and social events across the QCA. Instead, we want to share an American Tale. A story so unique it could have become a movie by its own merit. This is an amazing adventure, an epic journey, a masterpiece of life. And, what makes it cooler than heck; Toni scored a front row seat for a big part of the show.
Our story begins in the tiny town of Lamar, Arkansas. Nestled just outside the Ozark National Forest, the Arkansas visitors guide lists 68 mountain peaks near this tiny village. The setting might be described as rural, rustic and rugged. The movie people would have a ball with cinematographic shots of waterfalls and the 1.6 mile long Morrison Bluff Bridge, which spans the Arkansas River just a few miles away.
On April 4, 1923, the town of Lamar welcomed its newest resident. Considering the economic conditions of the time, one can pretty much guess there was no ticker tape parade. And since Lamar is one of those towns where prohibition never fully ended (it's still a dry county), not a single drop of bubbly champagne was poured. But it was a momentous day, and the launching point of our story.
At a very young age, our heroine and her family joined the great migration west. Not to California, we'll get to that later, but to the thriving metropolis of Matoy, Oklahoma. And they got there just in time to be share-crop farmers through the horrific "Dust Bowl" years.
If being from a small town is in vogue, Matoy is high fashion. Our resident fact checker and Current Trophy Husband Frank did a Google search for Matoy. It's not a small city, little town, or even a village. Matoy is officially classified by the State of Oklahoma as a "populated place." Basically, you couldn't buy a Moon Pie there on Saturday night if Daddy Warbucks was your uncle. But it was here our gal went to school and joined the ranks of the High School Graduates.
But, as is the case for great heroes and heroines, she felt the "yearn for adventure." With dreams of those faraway places like, California, she joined a girlfriend for a Hollywood Adventure. Instead of being discovered at the Schwab's Pharmacy soda counter, this gal and her pal discovered a more sensible job, helping out the war effort in a carrot dehydration plant. We don't know why, maybe it was some disk jockey spinning Woody Guthrie's hit, "Those Oklahoma Hills," or it might have been a letter from handsome cowboy back home, but our lady returned to Oklahoma. Along the way she found love and launched a new chapter in her life.
Back in Oklahoma, she met a handsome guy named "Shorty," a wounded war veteran who lost his leg in the Battles of Italy. Shorty wasn't the kind to let an injury disable him. He wooed our lovely heroine, they married and had themselves a fine daughter.
Around 1947, with steadfast determination and All-American confidence, this lady made yet another decision. As she walked into the imposing ten story limestone building at the corner of Main and Broadway in Oklahoma City, she had no idea how those few steps would change her life. The Tradesman Bank provided her with a life-changing dividend. A career was born. But those dreams of California still
lingered.
In 1965, toting a daughter, this time as a single mother, she once again followed the sun and her dreams west. Taking a position with the Bank of America in Sacramento, California, our heroine was now firmly planted in Gold Country. Back in those days, life wasn't easy for single moms, even the ones with cute little girls. But small town work ethic prevailed. Working as an auditor by day and putting her seamstress skills to work by night, this pair not only got by, they prospered. And in 1988, this fine lady moved into retirement. But retirement didn't mean slowing down.
She served as the secretary of her church. She traveled, cruised, sewed and volunteered. But then, something strange happened. Her daughter fell in love and moved to the Hollywood Hills of Iowa, to a quaint little spot on the shoulder of Old Man River – to the Quad-Cities. And at age 78, she decided this girl still needed the watchful eye of a mother. She packed up and moved to Bettendorf.
Now, we come to a new chapter in our story. The Iowa Caucuses captured her imagination. Where might one person make a big difference? She decided to be a part of history. She didn't just stick a sign in her yard, she campaigned; attended rallies in Des Moines, Cedar Rapids, and other spots, housed staffers from out of state, cooked for the masses and served at the local headquarters. All this activity at home, and a travel schedule that included solo drives to Oklahoma, and plane and train trips back to sunny California, not to mention regular appearances at the Oklahoma State Restaurant Association conventions.
And now, as the late great Paul Harvey used to say, the rest of the story; Toni's Mom, our heroine, Bobbie Dodd, will be celebrating her 90th birthday with friends and family in Oklahoma early this month. We thought you should know – for some people 90 is the new 40. Happy Birthday….
Tags: Arkansas River, Bluff Bridge, Crop Farmers, Dust Bowl, Epic Journey, Fact Checker, Google, Google Search, Great Migration, Lamar Arkansas, Launching Point, Matoy Oklahoma, Mcpike, Migration West, Morrison Bluff, Ozark National Forest, Personal Adventures, Quad Cities, Ticker Tape Parade, Trophy Husband
Trackback URL: https://www.50pluslife.com/2013/03/31/in-and-out-of-the-quad-cities-an-american-tale/trackback/