April 30, 2013
In and Out of the Quad-Cities – Spring Time in the QCA
Contributed by Gail McPike and Toni Hall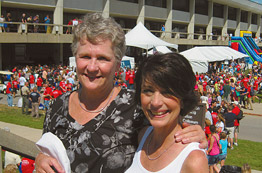 It's pretty darned hard to be our age and not remember Johnny Horton. Stop, think back, let your mind wander to the song "The Battle of New Orleans?" How about we sing a few words with you? "In 1814, we took a little trip, along with Colonel Jackson down the mighty Mississip. We took a little bacon and we took a little beans, and we caught the bloody British in the town of New Orleans." There you go. We knew that opening line would spark off a flash of brain waves. But, we're not talking about New Orleans – this time. Instead, we want to introduce you to another of Mr. Horton's big hits: "Spring Time in Alaska."
With a refrain line – "When it's Spring Time in Alaska, it's 40 below," ole' Johnny could have been singing about the Quad-Cities. As we comfortably settle into our overstuffed chairs in the posh offices of 50+ Lifestyles, we can't help but notice a few poor souls trudging through rain pooling from another or our late April snow showers. But, in spite of the unseasonal plague delivered by the weatherman, neither rain, nor sleet, nor dark of night can keep our neighborhood mail carrier or Ms. Spring from their appointed rounds. So, let's skip all the icky stuff and skip straight to Spring.
The Quad-Cities has some of the prettiest parks, scenic walks and cool by-ways in the world, and nothing tops a leisurely stroll on a bright spring day. And, we have prepared a mini-bucket list of places we plan to hit this season. Put on your comfortable shoes because we're about to take you on a walking tour of the places on our Spring list.
Walking the Iowa side of the river is easy and fun. We live close enough, we just walk down to the river from our houses and then follow along the Mississippi Trail. From there we normally head downstream to Downtown Davenport, which is an easy and flat two mile walk, for a well-deserved Boozie Burger. Or, we head upstream to the Isle of Capri to sample from their buffet. Here's a tip for those of you who don't live in our neighborhood. There's plenty of parking near the Lindsey Park Yacht Club or near downtown Davenport or the boat in Bettendorf.
This year, the water company is building a permanent flood protection wall around the water works, so the trail detours through some of Davenport's coolest old neighborhoods. We plan to take advantage of this, to check out the historic houses along the way. And, if we are feeling particularly energetic, we're going to ankle our way up to Prospect Overlook. This is a historic spot on the western border of the Village of East Davenport. It runs along Mississippi Street from 11th Street down to River Drive and a block east along Prospect Drive and Prospect Terrace. The neighborhood was developed in the 1890s and we always feel like we're sitting on top of the world when we check out the view of Arsenal Island and Rock Island from the park bench at the top.
A couple of other neat walks on our list have us making our way around the many stores, shops and restaurants in the landing of Moline. John Deere Commons is always good for a quick stop, but the real draw comes via Dead Poet's Espresso Shoppe. This fine spot has an ultra-weird painting of Edgar Allan Poe feeding his Raven a sip of coffee. Current Trophy Husband, Frank grew up listening to his dad recite Edgar's poem, The Raven, so he is drawn to the place like a hungry mosquito to a yellow porch light on party night. Frank wants to visit the picture often, but as the black birdie says "nevermore," or at least only occassionally.
Joining our bucket list for the umpteenth time is a ride on the Quad-Cities Loop Bus. Imagine a bus that doesn't really go anywhere. The Loop makes a gigantic hour long loop of the entertainment districts of the Quad-Cities. Running every Thursday thru Sunday, these retro-looking 30s-styled busses make a circle that hits The Village of East Davenport, Downtown Davenport, the District of Rock Island, Downtown Moline, the Moline Landing, Bettendorf's Isle of Capri, the Bettendorf Bus Turnaround then back to The Village. And they are a hoot; a slice of humanity; everything from slightly inebriated college kids, to folks just along for the ride. We're thinking of looping our way over to the Bent River Brewery for a fix of habanero catsup, but there are lots of other great spots along the way. But heck, since the cost for seniors is only 50 cents, we may splurge and ride it twice.
Let us wish each of you a Great May Day and a wonderful spring. And, if what they say about April Showers bringing May Flowers is just half true, we may need to borrow a machete to hack our way through the front yard. Lastly, did somebody mention Farmer's Market, Yard Art or Memorial Day?
Tags: April Snow, Battle Of New Orleans, Brain Waves, Bright Spring, Colonel Jackson, Comfortable Shoes, Iowa Side, Johnny Horton, Leisurely Stroll, Little Trip, Mail Carrier, Mcpike, Ms Spring, Neither Rain Nor Sleet, Overstuffed Chairs, Quad Cities, Snow Showers, Spring Day, Spring Time, Weatherman
Trackback URL: https://www.50pluslife.com/2013/04/30/in-and-out-of-the-quad-cities-spring-time-in-the-qca/trackback/