April 30, 2013
The Merry Month of May…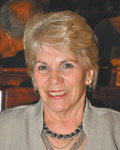 By Eloise Graham
May seems to have a theme all to itself – the letter "M." May Day, Mother's Day and Memorial Day all take place in the merry month of May. Even its birthstone is the "M"erald. (Emerald)
May Day, celebrated on May 1, is an ancient Northern Hemisphere spring festival. In England, as well as some other areas, people dance around the Maypole. A tall pole is erected, brightly colored streamers are attached at the top, and each participant takes a streamer. Then they dance around the pole weaving the streamers in and out. Another May Day custom is to anonymously give baskets with flowers and candy to friends and neighbors. The baskets are often homemade containers made with heavy card stock or woven from strips of construction paper.
Mother's Day this year is May 12, the second Sunday in May. Mother's Day, as we know it, is an American invention. It was first celebrated in 1908, when Anna Jarvis held a memorial to her mother. She then waged a campaign to make the second Sunday in May a national holiday. She succeeded and in 1914, President Woodrow Wilson signed this act into law. However, the celebration of mothers can be traced back to ancient Rome and Greece. A tradition of Mother's Day was to wear a corsage or boutonnière to Sunday services. Red flowers were to honor your mother and white flowers were in memory of your mother.
Memorial Day is the last Monday in the month of May. Originally, it was called Decoration Day, held on May 30, a day set aside to decorate the graves of the Union and Confederate soldiers that died during the Civil War. Later, it was changed to Memorial Day and was to commemorate all soldiers that died in battle in any of the wars. With the enactment of the Uniform Monday Holiday Act in 1971, Memorial Day has been on the last Monday of May. In 1987, Senator Daniel Inouye (Hawaii), himself a World War II veteran, introduced a measure to return Memorial Day to May 30. There is a difference between Memorial Day in May and Veterans Day in November. Memorial Day is designated to remember those veterans that died during war. Veterans Day is to honor all veterans.
Tags: American Invention, Ancient Rome, Anna Jarvis, Confederate Soldiers, Construction Paper, Daniel Inouye, Decoration Day, Erald, Flowers And Candy, Friends And Neighbors, Maypole, Northern Hemisphere Spring, President Woodrow Wilson, Red Flowers, Second Sunday, Senator Daniel Inouye, Spring Festival, War Ii Veteran, White Flowers, World War Ii
Trackback URL: https://www.50pluslife.com/2013/04/30/the-merry-month-of-may/trackback/