June 6, 2013
On the Go With Joe Hutter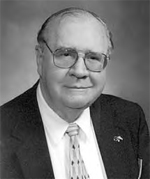 Seniors And Law
Enforcement Together (SALT)
By Joe Hutter
Do you still get that phone call when you are ready to sit down to eat? How about when you have a visitor? If you want to stop those phone calls, you can put your phone number both at home and your cell phone number on the "Do Not Call" list. You can call 1-888-382-1212 and have both numbers placed on the "Do Not Call" list. You can also go to www.donotcall.gov on your computer. Just enter your information on that web site.
Some of the scams that are used on the phone are the "we are updating our records" scam. These calls come from someone who wants you to think they are with the Social Security Administration. Do not give them any personal information on the phone, but tell them to send you a letter. Another scam frequently used, is for someone on the phone to offer to increase your benefits after you pay them for a filing fee. Beware of the scam, "you have a special refund coming." The caller will ask some questions and ask for a filing fee. Do not answer any personal questions over the telephone. The callers are con artists and are very good at getting you to give them your personal information.
Another way to scam you out of your money is by having maintenance done on your car. A $20 oil change coupon could lead to a $100 cost to you. If someone tells you that your car needs major repairs, get a second opinion. Try to have your car worked on, if necessary, by a mechanic that is certified by the non-profit, National Institute for Automotive Service Excellence or A.S.E., as seen on many shop doors.
As we get older, there are more and more ways people want to take advantage of us. Look at your mailbox every day and count the letters you get asking for a donation. The names of some of the organizations can be misleading. Sometimes very little of the money you send is used for the good of the people who need help. It is usually best to give help to a local group or organization. You can see what helps locally.
During May, our Triad group met at the Fountains in Bettendorf. We would like to visit your location in July. We have a program at 9:30 a.m. with members of the local law enforcement agencies. We have a short meeting, which anyone can attend to talk about local scams.
For more information about arranging for our group to visit your center, call Pam at the Scott County Sheriff's Office at (563) 326-8217.
Take care.
Filed Under: News
Tags: Automotive Service Excellence, Cell Phone Number, Con Artists, Donotcall Gov, Hutter, Law Enforcement, Local Group, Mechanic, Money, National Institute For Automotive Service Excellence, Oil Change, People, Personal Questions, Phone Call, Scams, Second Opinion, Seniors, Shop Doors, Social Security, Social Security Administration
Trackback URL: https://www.50pluslife.com/2013/06/06/on-the-go-with-joe-hutter-44/trackback/