June 6, 2013
Selecting an Audiologist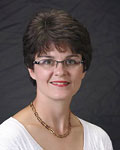 By Dr. Molly Parker
Audiologist
Parker Audiology, PC
Finding a hearing healthcare provider is a big decision. When I speak with my patients about their decision to purchase hearing aids, I often review the importance of selecting the right hearing healthcare provider as being one of the most important factors in their decision. A good audiologist can mean the difference between a successful fitting and a tremendous waste of money. Some traits in a good audiologist include:
1) Good listening skills: Your audiologist should be interested in your personal circumstances. A good audiologist will listen to you. A great audiologist will correctly read into the fine nuances that make up your listening experience. A person who is only out to "fix your problem" is going to solve one problem, only to create another.
2) "Your time is up!" For many of my patients, they depend on a ride to get them to see me. Some of my patients travel an hour. My philosophy is that if a patient needs to have a couple extra minutes, they will get it to make sure they are confident when they leave my office.
3) What is the audiologist's goal? If you feel like you are "the sale of the day," then you can be sure that you are a means to pay off their next vacation. The hope is that the driving force of any audiologist is to complete a good job.
4) How does the audiologist conduct themselves during their appointment? Do they seem bored or rush you out for their next appointment, or
5) Does your audiologist treat your entire hearing/com-
munication disorder? Will your audiologist meet with your spouse to discuss your hearing loss, and present positive communication strategies with your spouse, friends, family members?
6) Does your audiologist do real ear measurements at any point during the hearing aid evaluation period? New users of hearing aids never know exactly what to expect. Real ear measurements ensures the experience is right on the individual's prescriptive fit. Consumer reports recommended real ear measurements. If you have naot had this done, demand this at your next audiology appointment. Make sure your audiologist knows how to use it!
7) Would your audiologist ever recommend products that may be contrary to THEIR interests (because they did not get your sale)? If there's a less expensive option, your audiologist really should ethically provide recommendations that are best for your hearing loss, even if that means they do not get "the sale."
Parker Audiology, P.C., ethically and reliably provides hearing aid services to our patients. If you have any questions, please call us at (563) 326-5441.
Filed Under: Health & Wellness
Tags: Aid Evaluation, Audiologist, Audiology, Communication Strategies, Driving Force, Evaluation Period, Family Members, Friends Family, Good Job, Good Listening Skills, Healthcare Provider, Hearing Aid, Hearing Aids, Hearing Loss, Important Factors, Measurements, Molly Parker, Nuances, Personal Circumstances, Waste Of Money
Trackback URL: https://www.50pluslife.com/2013/06/06/selecting-an-audiologist/trackback/