June 6, 2013
Stories about your father?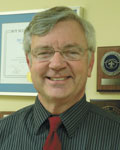 By Bob Morrison and Mary Huebbe
Marketing & Development Director Ridgecrest Village
Father's Day is an important day here at Ridgecrest Village. Memories of your father are important to reflect on, especially as we approach Father's Day. We like honoring our fathers with a day of telling stories and enjoying each other's company. We hope you celebrate with us by sharing your stories about your father on June 14, Flag Day, in our Koning Center here at Ridgecrest Village.
Father's Day acknowledges and appreciates the important roles played by a father in raising the child and consequently building a stronger society. Though fathers have been revered at all times by civilizations across the globe, ironically what was missing until the last century was the official recognition of the significance of fathers in one's life.
The noble idea of celebrating Father's Day became quite popular when U.S. President Woodrow Wilson approved of the festival in 1916. President Calvin Coolidge, too, supported the idea, but it was President Lyndon Johnson who signed a Presidential Proclamation declaring the third Sunday of June as Father's Day in 1966. Then in 1972, President Richard Nixon established a permanent national observance of Father's Day to be held on the third Sunday of June.
Many fathers would say they could have done more, but we want to celebrate the many ways they provided a lifetime of helping to mold the character of their children.
My personal reflection of my father is ongoing. My dad taught me the importance of building relationships with people. I remember when people entered his office (branch manager for GMAC), he got up from behind his desk and greeted them with a smile and a handshake. Guests realized they were important to him with this warm welcome.
Bob shared, "I remember many happy experiences with my dad. His respect of firearms was well-shared, and how to use them safely while hunting was a great lesson. Training me to water ski was fun. My dad taught me how to safely handle pulling a boat trailer, and the skill of backing up the trailer to the lake. Driving a car can be dangerous without learning the defensive driving skills. Because he taught me how to drive safely, his training enabled me to easily get through Drivers Education. Dad treated my mother with love and respect. They often went dancing together; even won dance contests."
Norma's dad was a Cub Master for his son's Pack from Boy Scouts of America. He would take his family on short trips every Sunday to see local sights and country roads. He loved the nature discovered on these journeys.
Father's Day has become a hugely popular festival. World over people thank their father and pay tribute to them. Most commonly children gift Father's Day cards and flowers to their father. Neckties are a popular gift on the occasion of Father's Day.
Mary remembers, "Every year it seems like my children buy their dad a tie. He has accumulated so many different designs. For fun, we asked him to bring his ugliest one to the Ridgecrest father's celebration, because we will be having a contest to see who has the ugliest tie. Heck we might even present the winner yet another TIE!!"
Mary said, "I have to say, when it comes to dads, I am the luckiest girl in the world. My Dad has always been fun, loving and very supportive. Sometimes I wonder why… I sure didn't make his life easy. I remember when I was younger, there was a cheerleading party. I knew my Dad would never let me go, so my friends and I made up a story that we were staying at each other's house. Unfortunately, there was a huge snow storm and my Dad was worried about us girls, so they called where I was supposed to stay. Those parents then called where their daughter was supposed to stay, and the plan unraveled. My Dad trusted me, so he figured we were all in the back of our yard ice skating. So, out he went to tell us to come inside because it was getting bad. My Dad fell through the ice in our pond (now mind you, my Dad had an accident at a young age and only has one arm). Imagine the anger he felt when he realized we weren't there. When I got home (the next morning) he was right at the front door waiting for me. He asked where I had been, and by then I knew not to lie. I was in big trouble, but the only thing I really remember about that morning, was when he sent me to my room. I heard him tell my Mom as I was going up the stairs 'Thank God, she is home safe.'"
Mary continued, "As hard as I made things on my dad, I know without a doubt that if it hadn't been for his guidance and love, I wouldn't be who I am today." We often don't give dads enough credit for just how much they do for us. Moms usually get the attention, because they tend to be more visible in the family circle. But, let's not forget the quiet care our dads are always there to give us. Come and help us celebrate the most important men in our lives; our dads.
We are inviting you to join us in celebrating Father's Day on Friday, June 14, Flag Day, in our Koning Center here at Ridgecrest Village from 1 to 3 p.m. Come share your stories, hear others, and don't forget to bring your ugly tie! Please RSVP to Mary or Bob at (563) 391-3430 by Monday, June 10.
Mary said, "One more thing you need to know about my dad before I close. My Dad isn't my biological father, but IS my Dad. Mom was supporting seven children on her own when she met my Dad. He loved her so much that he was willing to take on all of us as his own just to be with her. He is an amazing man that should have the Father of the Year award every year for his love and dedication to his family.
We are looking forward to your stories! We hope to see everyone on Friday, June 14 here at Ridgecrest Village, so we can all honor these amazing men in our lives.
Filed Under: Family
Tags: Bob Morrison, Building Relationships, Calvin Coolidge, Development Director, Flag Day, Lyndon Johnson, Marketing Development, National Observance, Noble Idea, Personal Reflection, President Calvin Coolidge, President Lyndon Johnson, President Richard Nixon, President Woodrow Wilson, Presidential Proclamation, Richard Nixon, Stronger Society, Water Ski, Welcome Bob, Woodrow Wilson
Trackback URL: https://www.50pluslife.com/2013/06/06/stories-about-your-father/trackback/