July 29, 2013
It's All About Balance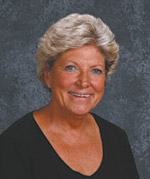 By Mary Schricker Gemberling
For a baby boomer on Medicare, I feel pretty young most of the time. I get out of bed most mornings relatively pain and med free other than an occasional aspirin or Tylenol to remedy excessive gardening, and have plenty of energy to meet whatever demands life might bring. There are, however, two situations in which I feel older than my years. The first is when I am watching The Tonight Show or Saturday Night Live, and I do not know any of the guests on the shows, nor do I understand most of the humor. The other is in the face of advancing and ever changing technology!
I am not technologically illiterate, but even though I have one of the newest smart phones on the market, I consider myself a novice. I store important phone numbers, keep my calendar, roam the internet, use my GPS, take pictures and can even download them on Facebook. But, I do know that to delve beyond the basic use of this device would require a higher technology quotient than I possess!
Grandchildren visiting during the past few weeks have confirmed my fear that the techno-world has left me behind in a cloud of dust. Like the favorite toy car or stuffed animal that my children carried everywhere, the grandchildren's electronic device of choice was never out of site. When traveling in the car, they became fixated on winning whatever level their game had challenged, never looking up until our destination was reached. The car trips were peaceful and quiet, and uninterrupted by the ubiquitous, "Are we almost there yet?" I asked our ten-year-old grandson if he ever got tired of playing his DS. He said no because there were so many different games and levels; there was always one more he hadn't mastered.
As with all the other new inventions and discoveries that revolutionized our world, we must take the good with the bad and find a balance. I know that the skills that the children of today develop as a result of the technology that is available to them will make them smarter and better in so many ways than their predecessors. Their instant access to information and their ability to problem solve will take them to heights that most of us reading this article cannot begin to comprehend.
My nostalgic side, however, cannot help but feel that the children of today might miss something while their eyes are riveted to that screen. Outside that car window lies the tangible history of their ancestors. Parents and grandparents need to be aware as books are replaced by Nooks, and board games, relegated to the bottom shelf, are replaced by solitary activities with minions on electronic screens. We cannot let the " Disney Worlds" become the only destination families strive for. They must also see cobblestone streets, canyons deeper and geysers higher than the eye can see, heroes carved into stone, and architecture influenced by the ancestry of our country; vast deserts, towering redwoods, waves of grain, apple orchards, rocky cliffs of the Pacific and the white sand of the Gulf Coast. We have a responsibility to make sure our children and grandchildren maintain the value and treasures of our past, while they forge into the unknown world of tomorrow. It's all about balance!
Mary, a former educator and Seniors Real Estate Specialist, is the author of two books, The West End Kid, and Labor of Love; My Personal Journey Through the World of Caregiving
( available at Amazon.com).
Filed Under: Family, Personal Growth, Technology
Tags: Baby Boomer, Car Trips, Changing Technology, Children Of Today, Cloud Of Dust, Different Games, Electronic Device, Gemberling, Higher Technology, Important Phone Numbers, Inventions And Discoveries, New Inventions And Discoveries, Older Than My Years, Quotient, Saturday Night Live, Smart Phones, Stuffed Animal, Techno World, Tonight Show, Toy Car
Trackback URL: https://www.50pluslife.com/2013/07/29/it%e2%80%99s-all-about-balance/trackback/