August 27, 2013
Max's Musings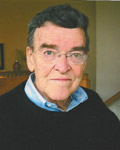 By Max Molleston
While those of us involved in reading poetry have certain favorites, they may be dead. That's right, dead! Most of the poetry we are involved with nowadays is done by people within our memory, or within reach of our bookshelves or those at the bookstore or library we frequent. Here is where we part company with strong poets, educated poets of the here-and-now. Way back when, "Walt Whitman took a dim view of the increase in women who gained popularity as literary folk." In the anthology titled American Women Poets of the Nineteenth Century, Cheryl Walker, its editor, maintained in 1992, "the more one reads Emily Dickinson the less like her contemporaries she seems." To this writer (and reader), Walker has made the correct analysis. Here's one example.
How the Waters closed above him.
How the waters closed above him
We shall never know;
How he stretched his anguish to us
That is covered, too.
Spreads the pond her base of lilies
Bold above the boy
Whose unclaimed hat and jacket
Sum the history.
Emily Dickinson seems, to me, more refined in terms of word usage, when and where it is most effective for our emotional selves. She was different than most of the other women who composed poems during the span of years that were capped at 1900. Does "different" mean better? That is, for us, an individual decision. It is doubtful that most of us have formed a column back to those times and places, and read poets other than Dickinson. We will remain in our light dose of melancholy with her poem, The bustle in a house.
The bustle in a house
The bustle in a house
The morning after death
Is solemnest of industries
Enacted upon earth—
The sweeping up the heart
And putting love away
We shall not want to use again
until eternity.
How could we not recognize that, given this wonderfully concise verse moving us to the meaning of death, but yet so removed from it. If you think of her sequestered life, as we believe was her choice, her style came from herself. She knew poets and writers and continued to write her poems as she saw they were to be.
Not long ago earlier this summer, a library in eastern Iowa, located in the town of Solon, also felt strongly about Dickinson. Strong enough to dedicate a special portion of their space to examine the essence of Emily Dickinson. I was assured the images in that display will appear on their web page for a while, or were posted for a while. I am very encouraged that our libraries now work to make poetry something to read, think about and admire.
For the last few years, one effort among teenagers is to prepare them to be able to recite aloud poetry they have selected, or poems chosen for them to read and repeat before an audience. There are even contests. You may be aware of a poetry group where you live. Get to one, or get to your library or book store and look into the volumes to see a name you recognize. Then check it out, or indulge yourself and buy it.
I do recommend you return to this space in October.
In the fall of the year, much is still possible. My advice is ENJOY!
Filed Under: Personal Growth
Tags: American Women Poets, Anguish, Anthology, Bookshelves, Bustle, Cheryl Walker, Contemporaries, Dim View, Emily Dickinson, Eternity, Lilies, Melancholy, Musings, Nineteenth Century, Poem, Poems, Reading Poetry, Span, Walt Whitman, Word Usage
Trackback URL: https://www.50pluslife.com/2013/08/27/max%e2%80%99s-musings-48/trackback/