August 27, 2013
September – A Grand Month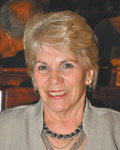 By Eloise Graham
How many of you have heard of Marian McQuade? How many of you have heard of Grandparents Day? How many of you celebrate Grandparents Day? Well, thank Marian McQuade.
Marian was born in West Virginia in 1917. Married to a coal miner, she and her husband raised 15 children. In the mid 1950s, she began working on senior issues in the state of West Virginia, helping to organize an event honoring West Virginia's octogenarians. She helped with the Past 80 Party, which was held annually in Richwood, West Virginia. She served as vice-chairwoman for the West Virginia Commission on Aging and was appointed to the Nursing Home Licensing Board.
Touched by the elderly that were in nursing homes and lonely, she decided there should be a day honoring the elderly that had given so much to the younger generations. She came up with "Grandparents Day." She felt the youth could still learn much from the elders and bring joy to them at the same time. After almost two decades of campaigning in West Virginia, the Governor proclaimed May 23, 1973 as its State's Grandparents Day. Then in September of 1978, the White House called to tell her that President Jimmy Carter had signed a bill proclaiming the Sunday after Labor Day as National Grandparents Day to begin in 1979.
This year, Grandparents Day will be September 8. The mission of Grandparents Day is three-fold: To honor grandparents; To give grandparents an opportunity to show love for their children's children; To help children become aware of the strength, information and guidance older people can offer.
Other "Grand Facts" for September
The F1 Italian Grand Prix, circuit name of Autodromo di Monza, will be held September 6-8, 2013. The first race was held in 1950. This particular race consists of 53 laps. Singapore will hold its F1 Grand Prix, Marina Bay Street Circuit, on September 20-22, 2013. Their first race was in 2008.
Did you know that Japan will hold its September Grand Sumo Tournament in Tokyo? Actually, Tokyo's Ryogoku Kokugikan hosts three Grand Sumo Tournaments in January, May and September. Ryogoku Kokugikan is the name of the sumo hall, much like Modern Woodman Park is the name of our ballpark.
Melbourne, Australia will be hosting the AFL (Australian Football) Grand Finale Week the week of Sunday September 22 through Sunday September 29. The week includes a fashion parade of the sports figures on the red carpet, kids activities where they can meet the players, Footy on Parade – a parade of the players and coaches and the Grand Finale game on Saturday. Sunday the playing field will be open to the public to run around the turf and make-believe they are playing the game. This could be much like our Super Bowl, except week long rather than one night. What do you think?
Filed Under: History
Tags: Autodromo Di Monza, Coal Miner, Eloise, F1 Grand Prix, Grand Sumo Tournament, Grandparents Day, Information And Guidance, Italian Grand Prix, Jimmy Carter, Licensing Board, Marian Mcquade, Marina Bay, Mid 1950s, National Grandparents Day, Octogenarians, President Jimmy Carter, Richwood West Virginia, State Of West Virginia, Vice Chairwoman, West Virginia Commission
Trackback URL: https://www.50pluslife.com/2013/08/27/september-a-grand-month/trackback/