August 27, 2013
YOUR SOCIAL SECURITY Davenport, Iowa Office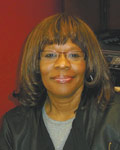 By Linda Clayton-Powell
Social Security District Manager
Davenport, Iowa
YOU KNOW WHERE TO FIND US (BECAUSE WE MAKE IT EASY)
If you have read anything about Social Security in recent years, then you probably know that our most convenient office location is wherever you happen to be — thanks to www.socialsecurity.gov. Whether you are on your home or office computer, or at the park or the beach with a mobile device, Social Security's online office is just a click away. However, we recognize that some people prefer to do business with us face-to-face. If that is you, we still would like to let you know about an online feature that can make finding your nearest Social Security office much easier.
From your computer or your mobile device, visit www.socialsecurity.gov/locator. That link will take you to our Social Security Office Locator. Once there, key in your ZIP code, and you will get the address, phone number, and hours of the Social Security office closest to you.
The Locator page also gives you the option to see a map and get directions. If you are on the run and have your mobile device, this feature has the capability to "Map It," providing turn-by-turn directions, making it easy to get to the office from where you are at the time. Of course, it is still up to you to find a place to park (if needed).
You do not have to worry about parking, traffic, or lines if you transact your business at our online office on our
website. If you can use our online Office Locator, you will probably be able to easily take advantage of our other online features.
For example, you can get a personalized, instant estimate of your future Social Security benefits by using our Retirement Estimator at www.socialsecurity.gov/estimator. On the other hand, do some retirement planning with our Benefits Planners at www.socialsecurity.gov/planners. You can even apply for benefits from your home computer by visiting www.socialsecurity.gov/applyonline.
We also encourage you to set up a my Social Security account at www.socialsecurity.gov/myaccount. Then you will have quick and easy access to a number of personalized, secure services. Get your Social Security Statement online, or if you already receive benefits, get an instant benefit verification letter right over the computer.
You may just want some information. You can get that online as well. Browse our library of publications, which you can read or listen to, at www.socialsecurity.gov/pubs. Get the Social Security forms you need at www.socialsecurity.gov/online. On the other hand, get an answer to a question by visiting our frequently asked questions at www.socialsecurity.gov/faq.
You can find these and many other Social Security services at www.socialsecurity.gov.
GET YOUR BENEFIT VERIFICATION LETTER ONLINE
Do you need a letter from Social Security verifying your benefits? The fastest, easiest, most convenient way to get a benefit verification letter these days is to go online to www.socialsecurity.gov.
You may need a benefit verification letter for a number of reasons. Perhaps you need proof of income for a loan or to
verify your monthly income for housing, or state or local benefits. You may need proof of your current Medicare health insurance status. In some cases, a person may need proof of retirement status, disability status, or age. For any of these situations, a benefit verification letter will provide the proof you need.
Sometimes a benefit verification letter is called a budget letter, benefits letter, proof of income letter, or proof of award letter. Do not let the different titles confuse you; they are all the same thing: a benefit verification letter. Whatever the reason you need your benefit verification letter, you can get yours immediately online free.
To get your benefit verification letter, simply visit us online at www.socialsecurity.gov/myaccount and set up a my Social Security account. To create an account, you must provide some personal information about yourself and give us answers to some questions that only you are likely to know. They are the same types of questions you would encounter if you were trying to open an online account at a financial
institution or obtain your credit report.
Next, you create a unique username and password that you will use to access your online account. This process protects you and keeps your personal Social Security information private.
Once you have established your account, it will be simple for you to come back and transact business with Social Security in the future. For example, in addition to getting another benefit verification letter in the next year or two, you can check your benefit and payment information as well as your earnings record. You also can change your address, phone number, and direct deposit information.
So remember: there is no need to fight traffic and visit a busy government office in order to obtain proof of your
benefits. Simply visit www.socialsecurity.gov/myaccount and establish a my Social Security account so you can obtain your benefit verification letter online in a matter of minutes.
Filed Under: Finance
Tags: Address Phone Number, Capability, Davenport Iowa, Home Computer, Iowa Office, Key Code, Linda Clayton, Map, Mobile Device, Mobile Office, Office Computer, Office Location, Planners, Retirement Planning, Social Security, Social Security Benefits, Social Security Office, Traffic, Www Socialsecurity Gov, Zip Code
Trackback URL: https://www.50pluslife.com/2013/08/27/your-social-security-davenport-iowa-office-27/trackback/