October 1, 2013
On the Go With Joe Hutter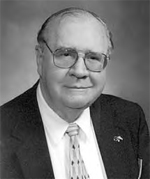 Seniors And Law
Enforcement Together (SALT)
By Joe Hutter
September was a busy month for seniors. Many of you went to the Senior Voice Program at the Mississippi Valley Fairgrounds and the Senior Expo at the Waterfront Convention Center. There are many good programs for seniors throughout the year.
Officer Hank Jacobsen of the Davenport Police Department, as well as Deputy Ken Koehler from the Scott County Sheriff's Office and Jeff Nelson of the Bettendorf Police Department also put on programs. On September 23 at Center for Active Seniors (CASI) in Davenport, there was a program to make seniors aware of the many scams against seniors.
If you have a computer, please do not give your personal information to any questions that you may see on any site. No government agency will ask you for information on the computer or phone.
Recently the media has been reporting about fraud cost in Medicare claims. Some were doctors charging for services not completed for patients. Recently, Medicare has started a new program to train volunteers to help deter fraud. There will be more information about this topic in future articles.
Starting October 1, 2013, a new health insurance program was began. If you want to know anything about this program, you can call the Help Center at 1-800-318-2596. Most of you will not have to do anything. There will be scams, but remember that the government will not call or email you to solicit enrollment plans. You DO NOT have to replace your Medicare coverage. If you get something in the mail, call 1-800-318-2596. All the information you may need about the Affordable Care Act or health insurance can be answered by the people at 1-800-318-2596.
Much of this article is about healthcare, but think about this. Medicare fraud and abuse cost taxpayers as much as $90 billion every year. This money comes from you and me!
Soon, Triad will be having information on Mediacom, channel 19.
Our October meeting is October 23 at CASI at 9:30 a.m. We'd love for you to join us. If you have any questions, please call Pam at the Scott County Sheriff's Office at (563) 326-8217.
Take care.