October 1, 2013
Single Sided Deafness and Treatment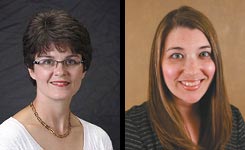 By
Dr. Molly Parker
Audiologist and Owner
Parker Audiology, P.C.
&
Dr. Elizabeth Meinecke
Audiologist
Parker Audiology, P.C.
Single sided hearing deafness can be caused by many things: congenital, acoustic tumors, viral illnesses,
ministrokes, and sometimes other unknown reasons such as genetic factors. Single Sided Deafness may not be medically treatable. Common issues with this condition include: loud tinnitus "ringing," problems localizing where sounds come from, extra problems hearing in background noise, loss of special ability, e.g. the "depth perception" of sound.
I am frequently asked what the audiological solution would be. BICROS Hearing Aids (Bilateral Contralateral Rerouting of Sound) have been around for decades but used with mixed results in this population. The past six months, there has been one technology development that has been extremely helpful with providing better resolution of sounds, reducing background noise when set up with directional microphones and has a better processing ability than traditional older hearing aids. The aids themselves can be made extremely small.
To date I am not aware of any medical procedures that would return hearing to normal. Additionally, I have fit several of the new BICROS aids, and I continue to be very happy with the results. As long as realistic expectations are carefully reviewed, patients have been enthusiastic by saying that "these just sound great!" If Single Sided Deafness describes your hearing, I would always recommend that you check with your physician to ensure there are no other medical problems.
If you have any questions about this type of technology, I strongly advise that an appointment be set up with Dr. Elizabeth Meinecke or with Dr. Molly Parker, (563) 326-5441.
Dr. Elizabeth Meinecke and Dr. Molly Parker are currently accepting new patients at Parker Audiology, P.C. Call for an appointment at (563) 326-5441.
Filed Under: Health & Wellness
Trackback URL: https://www.50pluslife.com/2013/10/01/single-sided-deafness-and-treatment/trackback/