November 5, 2013
A Hundred Years… A Million Changes, Part III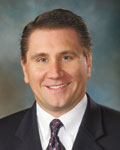 By David W. Deuth, CFSP
President, Weerts Funeral Home
In the past two issues, we've glanced at a handful of societal changes during the past one hundred years and noted that these changes have influenced certain things such as visitations (which, prior to established funeral homes, were often held in the family home) and large family burials plots (which assured that family members could be buried near one another). Today, as technology has changed – some might say it has overrun – nearly every aspect of American society, it's no wonder that our way of life – and subsequent views at death – have changed significantly from that of just two or three generations ago.
Previously, we noted that earth burial is still by far the most prevalent preference among families in our area, although cremation has seen a notable increase in recent years. After discussing this with countless families who have indicated a preference for cremation, it seems that this is decision is often predicated on a twofold common denominator:
1. It's what the decedent said they wanted; and
2. It's simpler.
We've discovered that, in many cases, this is the ONLY thing a family knows about the funeral preferences of the one who has died: that they "just want to be cremated." And, absent further instruction or established planning, this leaves the people they care the most about – on the worst days of their lives – to muddle through what else might go along with "I just want to be cremated."
A surprising number of people still are not aware that you can have a "funeral" . . . and still have "cremation." This became clear to my own family a few years ago when my Uncle Darrell, my Mom's younger brother, died very unexpectedly. Shortly after learning this news, my parents and I had a phone conversation with my Aunt Rachel. We were all stunned, of course, and in our disbelief I asked her the same question I've asked thousands of families over the years: "Did Darrell ever say anything about what he wanted for his funeral?"
"The only thing he ever said was that he wanted to be cremated…" was the reply. "I really don't know what else to do."
No one in my mom's immediate family had ever been cremated. Ever. And although mom has helped us at the funeral home for many years, she was somewhat unprepared for this response. We made sure that Rachel understood that the decisions were completely hers to make, and yet reassured her that it would be very meaningful for family and friends to have a viewing opportunity as we said our goodbyes.
Rachel wasn't completely aware of the option to have the body present for both visitation and funeral and THEN have cremation take place. In the end, this is what she decided to do, and it was so appreciated by the numerous family, friends and co-workers who came to honor Darrell at a very well-attended visitation and funeral to celebrate his life. A private family graveside service was held later when his ashes were buried in a local cemetery.
And so this scenario has become a "middle ground" of sorts for many families who have to sort through this notion of honoring one's wish to "just be cremated" . . . and also honoring the life that they have lived and the lives that they have touched.
As to the notion that cremation is simpler, I've begun to understand that this perspective may be the result of being focused just on the cremation itself, and not taking into account other aspects of what a meaningful farewell might look like. We've learned that the things people don't know that they don't know – and all too often discover on the worst day in the lives – can potentially make this more complicated than they expected.
One of the first potentially complicating issues is that of obtaining the proper signatures on the Cremation Authorization document. In Darrell's case, only one signature was required for cremation: Rachel's, as she was the surviving spouse. In the case of a widowed spouse who does not re-marry, for example, then the Right To Control (in Iowa – Illinois statute is slightly different) falls next to surviving, competent adult children – and if there are eight of them, we'll be looking for eight signatures before cremation takes place. Now that kids are living all over the country – and sometimes around the world – instead of living across town, we are faxing and emailing Cremation Authorization documents all over the world in order to secure the |proper permissions for cremation to take place. This often takes time and, in certain instances, extraordinary effort to accomplish.
Furthermore, as you might imagine, not everyone who bears the Right To Control in such circumstances is in favor of cremation – and this can become another significantly complicating factor in obtaining the required signatures. For this reason, among countless others, we strongly encourage meaningful family discussions about your preferences as well as written indications of those preferences on file with your funeral home. This will go a long way in affirming your intentions to your family – and that will aid us to better assist your family one day when we need their signatures in order to carry out your wishes.
And even if everyone with Right To Control agrees on cremation and signs the authorizations, we've learned that the next potentially complicating factor is that they don't always agree on what to do with the ashes.
We'll address that topic next time. Until then….
Remember Well.
Filed Under: Family
Trackback URL: https://www.50pluslife.com/2013/11/05/a-hundred-years-a-million-changes-part-iii/trackback/