December 4, 2013
Honoring Our Veterans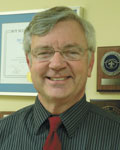 By Bob Morrison and Mary Huebbe
Marketing & Development Director Ridgecrest Village
Last month's article was about the unique 25th Honor Flight for area WWII and Korean War-time Veterans. We have now completed 26 flights with four more planned beginning April 2014.
Veterans Day commemoration brought 18 veteran families for lunch and a tour at Ridgecrest Village. Later that night, thank yous and recognitions were given to 62 veterans residing in the Ridgecrest senior living complex, while also honoring others in attendance who served in the military.
The Ninth Annual Veteran's Appreciation for Veterans Day at 6 p.m. on Monday, November 11 was wonderful. Ridgecrest Village had over 90 people in the Koning Center to celebrate the day.
Wilma and Lois represented 175 years while playing a patriotic duet on the organ and baby grand piano. David (12 years old) led the Pledge of Allegiance with everyone standing. Don Arp told of the history of Veteran's Day. Don reported later, "There were several comments from those in attendances after the event, saying the program was interesting and was a great recognition of our Veterans!"
The Honor Flight Choir was outstanding. KWQC TV-6 even had this men's singing group on the 10 pm news. The "Military Band Six" was also shown playing military theme songs with veterans standing at each branch; Army, Navy, Air Force, Marines, National Guard, and Merchant Marines were present and singing along.
Art Petersen has organized this event and acted as Master of Ceremonies for several years. Both men and women
veterans were recognized. Don and Ellie proudly stood up as veterans for the Marine and Coast Guard services.
Art wrote a "humungous" THANK YOU to all participants and resident attendees. Art said, "Remember our
veterans and their families."
Our readers are invited to come to Ridgecrest for a festive Christmas Stroll through the village on Friday, December 13. Several different themes will be presented with several Christmas Tree displays. Included in this is a tree decorated by Honor Flight of the Quad Cities to support our veterans.