December 4, 2013
In and Out of the Quad-Cities: Have Yourself a Stress Free Little Christmas
Contributed by Gail McPike and Toni Hall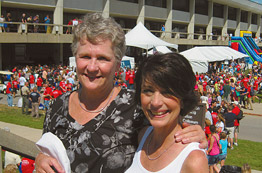 Have Yourself a Stress Free Little Christmas – The Best Holiday Yet…
Let's revisit holiday seasons of the past. "Over the river and through the woods to Grandmother's house we go…", we're
hankering for the holiday. Once inside Granny's beautifully appointed two story colonial, we find the dear old gal busy preparing her traditional 47-course feast. Strangely, the G-master has been working over a hot stove top since the day after Thanksgiving and nary a drop of dressing spots her pristine apron. What's more her hair and make-up are perfect.
As we wind our way through the old gal's festively decorated home, everything is sparkling. Not a single needle
of her freshly cut tree is out of place. The fireplace holds a neat half-dozen newly knitted stockings. The mantle is adorned with fragile relics of holidays in the "old country." And a roaring fire spreads an amber glow across well-behaved children neatly dressed in red flannel blazers. As we glance around the room everything is perfect. Even the family dog seems to be sprouting a halo as she reacts calmly to crowds of carolers, raucous guests by the dozens and the tipsy neighbor from across the road.
Close your eyes, dream with us. We've seen this image someplace before. You can almost smell those hot pumpkin pies passing through their final roasting. Oh, how those lasting memories echo back from our childhood days.
But, wait a minute. Let's do a bit more recalling. We'll dig deep into our memories of Christmases past. Somehow the
perfect holiday setting outlined above gets sketchy. The memories are "memory plants," more likely from Miracle on 34th Street and old time Madison Avenue cola ads than our own past. At our age, it's hard to remember details, but any recollection of figgy pudding, the streets of Elizabethan London and a brother named Tiny-Tim saying "God Bless us each and every one…" probably didn't really happen.
We don't think we're all that different when we say some of our recollections include holidays that were both flawed and fun. We remember ruining a perfectly fine Christmas Eve dodging traffic to find the perfect (and long since forgotten) present, instead of enjoying the friends who were present.
We're not certain as to whether Santa will strike us off the list for saying this, but we've decided to toss out tradition, ditch the decorations, minimize the pressure and maximize the fun. We're making merry to the beat of a different drummer, and he's playing the Gail and Toni twist. And we invite you to join us…
Somewhere way up in Gail's attic, behind the stored clothes and alongside the piles of Current Trophy Husband Frank's tax records, we find a half dozen boxes of holiday decorations. Some of them are special. A few are left overs, passed from
aging parents. And, many are merely cheap tinsel purchased decades ago to fill a bare spot on poorly picked-out tree.
This year, we're not going to drag down all 500 pounds of holiday junk. Instead, we'll devote the decorating time to relaxing with loved ones.
The hand of fate and our decision to make a new kind of merry will impact the life of some lucky turkey gobbler. His life will be spared or at least in our kitchen. Countless cranberries will rejoice as they are saved from the sauce. Are you starting to feel the joy of our Cool Yule?
Instead of prepping pot after pot, we'll be playing out the real meaning of the Season. After years of waking early on Christmas day to find Santa toys under the tree and a half thawed carcass in the kitchen, we'll leisurely lounge under the covers.
Don't put us down as Humbug hummers. We're as into the spirit as the Santa and a six pack of elves. The only difference is this year, it's our way; on our own terms. We're going to gather with friends and loved ones; it's just not going to be a cheap imitation of the Walton's Christmas Extravaganza. Raise your hand and say "Night John Boy."
In case you are wondering, here is a short list of activities which are in our plans:
Nothing puts us in the "Spirit" like the Spirit of Christmas Present in the 1951 version of A Christmas Carol. Alistair Sim plays Scrooge the way Dickens wanted it done. This movie brings back real childhood memories; the ones of munching popcorn on the couch and occasionally checking the window for signs of red-nosed reindeer and a jolly old elf.
And speaking of movies, if Darren McGavin didn't win an Oscar for his role as Ralphie's dad in the 1983 movie A Christmas Story, he should have. This movie centers on a Depression Era boy's quest for a genuine Red Ryder BB gun. A few friends, a glass of wine and this show will take us straight back to a simpler time in our lives. Where were you in 1983?
Lighting some Seasonal Candles is on our list. It's easy, fun and a whole lot easier than baking pies.
Driving around checking out the lights will bring us great cheer. A quick note to the family in North East Davenport with the choreographed light show: you guys are awesome. We love you, Santa loves you. And as they say, the electric company loves you. Hopefully, your January electric bill is offset by the good will you create.
Finally, Merry Christmas, Happy Hanukah and Santa please don't shave on Christmas Eve.