January 3, 2014
In and Out of the Quad-Cities: Happy Whatever It Is
Contributed by Gail McPike and Toni Hall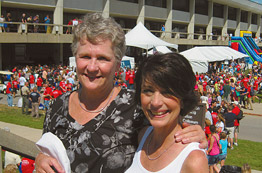 Happy New Year 2014 to all of our friends out there in 50+ land. We took a little road trip to Des Moines a couple of weeks ago, and as we "Cadillac'ed" our way through the snow covered Iowa landscape, we got into a discussion of how to greet the coming year.
Before we get into the proper nomenclature for the next twelve months, allow us to make one point. Neither of us drives the famous General Motors brand luxury automobile, but we do like the sound of that old Bob Wills' song that went something like this: The time rolls around and it's New Year's day, we're gonna Cadillac the town in our Model "A".
So anyway, there we were, comfortably seated in the Toni-mobile gliding down good old I-80. And just in case you missed it somewhere along the way, here's our motto. Gail and Toni is the name. And girl talk is our game.
It's amazing all the topics a couple of good friends can cover in the three hours between here and our (well, at least for the Iowa side of the QCA) state capital. We wondered through the best food of the Holiday Season to diets to good drinks and fun dinners. But, soon we found ourselves reflecting on the New Year.
The first issue facing us was actually kind of silly, but definitely worth pondering. What do we call this spanking new baby of a calendar year? Think about it, everybody wants to be called by their proper name. You would never call your friend Catherine by Kate or Charles by Chucky. Names are like that. So, what does this next 365 day orbit of the sun want to be called? Is it two thousand and fourteen? Two thousand-fourteen? Twenty-fourteen? Two aught fourteen? And what if the year ends up spending too much time reveling at the New Year's Eve Toga Party down the street and comes back MMXIV? Even Current Trophy Husband (CTH) Phil, who seems to know just about everything but computer science, can't give us a good answer.
Somewhere just west of the Coralville Mall, we somehow found ourselves on the topic of more girl trips for Twenty—well, whatever his name is? We used to call these bucket lists, but we're not sure any of them actually qualify for such heavy status.
It seems that our own Toni, in spite of being a fairly educated and semi-traveled gal, has never visited the Deep South, and she's got a hankering to remedy that situation. The mere thought of missing out on an excursion to the Barbeque Belt of our nation puts her into a funk. As CTH Frank is fond of saying, if pigs were people, North Carolina would be California and Iowa would be New York. We can only guess that some of this comes via the actual population count of bovine creatures within the respective states borders. No matter how you slice it, Toni has dreams of Carolina cooking and California wines.
The Deep South is home to a number of delicacies which must be sampled from the hands of a native. We're talking Brunswick stew, crab boils, sweet potato pie and okra cookies. And based on our thinking, North and South Carolina are knee deep in these goodies.
Further, poor Toni has never had the chance to dance the Beach Boogaloo on the sands of Myrtle Beach (and the rest of us have never even heard of such a thing). So as we fiddled with the dashboard controls trying to eke out a few more degrees in the sub-freezing early Iowa winter, we're day dreaming of warm waters washing over our toes and hot sand sheltering our towel.
Gail on the other hand has her hopes set on a sheep and wool trip. You know we like to go where the fiber girls play. But what if we traced these wool creatures back to the mother land? Not just the Scotland that Gail feels might be her ancestral home, but someplace even more sheepy. The Shetland Islands are a remote archipelago of islands off the coast of Scotland. The natives of this island are famous for their indigenous breed of sheep and special lace designs.
The Shetlands are also home to the Shetland pony, which were used for kid's pictures way back when. CTH Frank has a cowboy clad picture of himself at age 3 riding high atop a trusty Shetland pony mount. Historically speaking, this whole cowboy deal is incorrect. The Vikings brought the pony to the islands back in the bronze age. It's our guess the photographer going door to door selling kid pictures found it easier to carry a straw cowboy hat than one of those horned helmets the Norsemen seemed so fond of wearing. But, we digress.
As we rounded the bend where Des Moines urban sprawl starts, we made a final decision. This year we need to plan our trips out a little better. We think it would be fun to have these major trips come up about once every few months instead of back to back. Planning trips is half the fun.
We think this year (whatever you call it) will be swell.