January 3, 2014
On the Go With Joe Hutter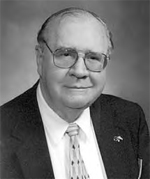 Seniors And Law
Enforcement Together (SALT)
By Joe Hutter
Are you still using 2013 when writing the date? At least we're another month closer to spring!
Every day in the news we hear about a senior being a victim of crime. Have you ever gotten a check in the mail from a non-profit organization made out to you? Do you think you can win prizes if you buy something? It seems that year after year, some company or group is always trying to get our money. We have seen articles in the past on what you should watch out for and to whom you should be donating your money and valuable time. We all receive something in the mail everyday asking for money. Seniors are the most valuable donors. We have a tendency to give to groups that help people that are less fortunate. Previous articles in this column have warned seniors on where they donate money. Please be careful with what you get in the mail. Read the small print, and if you want to help someone, give to a local charity in your community or your church. There will always be someone willing to take your money, even if they don't deserve it, or if they use very little money for the cause. If you have doubts, call the Attorney General's Office in your state.
If you want to give to a national charity, check the charity out on the Better Business Bureau "wise giving" site at www.bbb.org/us/charity/. Some charities do not release information of how much goes to programs and the amount their CEO receives annually for their salary. Many CEOs make over $300,000 a year, and some make close to a million dollars.
Every day more than one million people fall victim to cybercrimes.
The National White Collar Crime Center (NW3C) is pleased to collaborate with Symantec to get the word out about resources for cybercrime victims. Please visit our new website www.VictimVoice.org and forward to anyone who has concerns about cybercrime. VictimVoice.org allows users to file a complaint about an online crime directly with the Internet Crime Complaint Center. It also includes a wealth of resources related to cybercrimes, including prevention tips and steps to take if victimized. Please check out the VOICE website today and share with others to help prevent and combat cybercrimes.
Any questions or comments, send them to Pam at the Scott County Sheriff's Office or call her at (563) 326-8217.
Take care.
Filed Under: Community
Tags: Bbb, Better Business Bureau, Ceos, Charities, Check In The Mail, Check Mail, Cri, Donors, Doubts, Hutter, National Charity, National White Collar Crime, National White Collar Crime Center, Non Profit Organization, Nw3c, One Million, Symantec, Victim Of Crime, White Collar Crime, White Collar Crime Center
Trackback URL: https://www.50pluslife.com/2014/01/03/on-the-go-with-joe-hutter-51/trackback/