January 4, 2014
Protecting Our Aging Loved Ones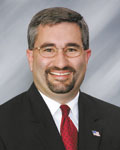 By Curt Ford
Nash Nash Bean & Ford
As our parents and older loved ones age, we often are faced with the reality that one of them has become incapable of caring for himself or herself, whether from Alzheimer's or another age-related dementia or another aging issue. If you find yourself in this position, you may need to consider petitioning to become your loved one's guardian. Understanding the advantages and disadvantages of guardianship may help you decide how to proceed.
Guardianship is an option available in most states if you believe a loved one is disabled because of mental deterioration, physical incapacity, mental illness or developmental disability. If your loved one has an incapacity plan included in an estate plan, there should be no need to pursue guardianship; however, if incapacity planning was not accomplished in advance, guardianship is frequently the only option.
For this option, you may petition the court to become a guardian of the person, guardian of the estate or both. As guardian of the person, you make personal decisions for the protected person. As guardian of the estate, you make decisions related to the protected person's estate.
One of the biggest advantages to guardianship is the broad powers you may be granted if you are appointed guardian. If the court grants you plenary guardianship, you will have the power to make all decisions for the ward, both person and estate. This makes managing your loved one's affairs relatively easy and discourages any challenge to your authority.
The disadvantages to guardianship relate both to the protected person and the potential guardian. From the protected person's standpoint, guardianship does not allow the individual to decide who will control his or her assets or make decisions. If a guardianship is warranted, the situation is past the point at which the disabled person can decide who will control assets or make decisions on his or her behalf. Had the disabled individual created an incapacity plan that included a power of attorney, advanced directive and/or revocable trust, the need for a guardian could have been avoided and the disabled individual would have been able to decide who will make decisions in his or her place.
From the potential guardian's standpoint, the major disadvantages to guardianships are time and money. The guardianship process can take several months (or longer) to complete because of legal procedures that must be followed to ensure the person's rights are protected. Petitioning for guardianship also typically comes with expenses for court costs, legal fees and physician fees.
To best protect your loved one – or yourself eventually – it is best to discuss the options with an attorney.
Nash Nash Bean & Ford are members of the American Academy of Estate Planning Attorneys and the National Academy of Elder Law Attorneys. To receive a copy of our most recent newsletter "Your Estate Matters" or for a free consultation on Estate or Long Term Care Planning, call 800-644-5345, email info@nashbeanford.com or visit our website at www.nashbeanford.com, where you may also link to our blog and Facebook page.
The firm devotes its practice primarily in the areas of estate, business and tax planning and related areas of the law, as well as elder law and trust administration and probate. We offer guidance and advice to our clients in every area of estate planning.
This column is designed for general information purposes only, and is not intended, nor should be construed or relied upon, as legal advice. Please consult your attorney if specific legal information is desired.
Filed Under: Family
Trackback URL: https://www.50pluslife.com/2014/01/04/protecting-our-aging-loved-ones/trackback/