January 30, 2014
The Choice is Yours!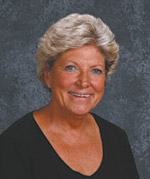 By Mary Schricker Gemberling
It takes a great amount of organization and planning to maintain a healthy lifestyle.
Most of my life, I have been able to eat pretty much whatever I wanted to without having any serious weight or health issues. However, as I age and my activity level decreases, I find myself battling the bulge more than I would like to. The fall and early winter weeks are the biggest challenge. I love to cook, and the fall harvest foods are my absolute favorite. Although I try to cut the calories whenever possible, it's a challenge when it comes to stuffed pork chops, candied carrots and apple pie, some of our favorite autumn foods. With multiple family birthdays, wedding anniversaries, Thanksgiving, Christmas and New Year celebrations, we find ourselves eating huge meals more often than not! And I know that I am not alone.
We all live in a world where unhealthy food and temptations are all around us. Poor eating habits, unhealthy food choices, and a lack of exercise are packing on the pounds and inches. The average American is 23 pounds heavier than his or her ideal body weight. Obesity related diseases and health problems account for 61 percent of healthcare costs or in excess of $147 billion a year, and are blamed for one in five deaths in the U.S.
So, how did this happen? The average American spends thirty minutes a day snacking between meals, with 20 percent of American meals eaten inside a car. We've lost all sense of proportion….the average restaurant meal is now four times the size it was 50 years ago. In the early 1800s, each person consumed on average twelve pounds of sugar a year. According to USDA statistics, that number increased to 150 pounds per person by the year in 2000. Add our sedentary lifestyle and it is clear why Americans are so overweight.
How do we reverse this trend? It can and must be a cooperative effort between individuals, businesses and community. With over $33 million dollars spent annually by the 45 million Americans who are on some type of diet, societal awareness is not the issue. The problem is we live in an immediate gratification society, but there is no quick fix to obesity. It's really about calories in and calories out. It boils down to managing your junk food intake or letting it ruin your health. The choice is really yours.
Making good choices is not always easy in our busy lives. We are inundated with social engagements that involve food, as well as daily work environments that promote unhealthy choices. Often friends and co-workers, without realizing it, sabotage the efforts of those who are trying to eat healthy. So, how do we resist?
• Figure out what needs to be done to achieve and maintain the desired level of health. Don't be afraid to seek the help of a dietary specialist or join one of the many programs that are available to help you reach your goal.
• Determine what your nutrition needs are. Decide which foods you can eat to limit your caloric intake and formulate an exercise plan that will allow you to expend more calories out than calories in.
• Identify the obstacles in your lifestyle that may interfere with your goals.
• Learn to plan ahead. Decide what you are going to do at that celebratory lunch, family dinner, and ongoing "food days" at the office. List the potential pitfalls, and write down specific solutions that allow you to be prepared.
Once your healthy eating plan becomes a part of your daily routine, take it to the next level, both at your workplace and in your community. Businesses lose more than $12 billion per year due to increased absenteeism, lowered productivity, more costly health and disability premiums and other consequences associated with obesity and weight-related conditions. Encourage your management to provide healthier food choices at meetings or get-togethers. Suggest that they incorporate healthier food and drink choices in the vending machines. Solicit them to negotiate with nearby fitness centers or the local YMCA for reduced membership rates for employees. Participate in runs, bikeathons, or other active community events.
It takes a great amount of organization and planning to maintain a healthy lifestyle. It really comes down to choice. At the end of the day it is your choice to be healthy and active, or not.
"Be the change you want to see in this world"…………Ghandi
Mary, a former Educator and Seniors Real Estate Specialist, is the author of two books, The West End Kid and Labor of Love; My Personal Journey through the World of Caregiving
(available at www.amazon.com ).
Filed Under: Personal Growth
Trackback URL: https://www.50pluslife.com/2014/01/30/the-choice-is-yours/trackback/