January 30, 2014
Things to Consider and Ask Before Investing in Hearing Aids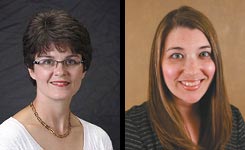 By
Dr. Molly Parker
Audiologist and Owner
Parker Audiology, P.C.
&
Dr. Elizabeth Meinecke
Audiologist
Parker Audiology, P.C.
The task of purchasing hearing aids, whether for the first time, or if you want to update with new technology, may seem daunting. Aids may seem appealing, but how to do you know if your investment is worth the value that you get? Cost is one
factor to consider in your purchase decisions. But other details should be considered. Below, I have listed several things to ask your audiologist or hearing aid dispenser.
Technology
As an audiologist, my top goal for my patients is to meet their hearing needs. recommendations are based on the hearing loss and the individual's lifestyle. It is important to determine what hearing aid technology needs to do. Just like with cars, computers, and phones, there are several levels of technology available for hearing aids. More advanced hearing technology will have more features to help with more complicated environments; this will more effectively bring out the speech you want to hear.
We live in a noisy world, and even the best hearing aid may not be able to eliminate all background noise. Not everyone may require the "Cadillac" of hearing devices. Quieter lifestyles may be met with less advanced hearing aids.
What is Included in the Cost?

With any purchase, be aware of what is included in the cost. Many locations include office visits, cleanings, and adjustments bundled into the cost. Ask your perspective office the following questions and be sure you compare apples to apples.
-What services are included with the purchase cost? What kind of office fees are there?
-How long is the evaluation period and the warranty?
-What happens if I lose or break my hearing aid?
-Are batteries included or are they extra?
-If I want to try a different style or level of technology after my purchase, how does that work?
-How well do I like my provider? What do others say about him/her? Do they care about me or do they just want "the sale?"
-Are other family members welcomed to your visits?
We strive to educate our patients about hearing aids, hearing loss and strategies to help them hear better. We want our patients to feel comfortable and successful. And we welcome second opinions, too! If you have any questions, I would love to meet you to discuss your personal situations and concerns.
Dr. Elizabeth Meinecke and Dr. Molly Parker are currently accepting new patients at Parker Audiology, P.C. Call for an appointment at (563) 326-5441.
Filed Under: Health & Wellness, Technology
Trackback URL: https://www.50pluslife.com/2014/01/30/things-to-consider-and-ask-before-investing-in-hearing-aids/trackback/