January 30, 2014
Thoughts on Love and Valentine's Day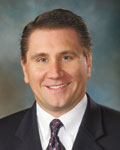 By David W. Deuth, CFSP
President, Weerts Funeral Home
It's been the object of countless songs and the subject of innumerable books, movies and screenplays. It's one of the most commonly-known words – in any language – the world over; paradoxically, at times, it may be arguably among the least understood. It's a common thread woven throughout the Scriptures. It can be both a noun and a verb. It's deliberate action in some instances, supreme patience in others. It is in abundant supply around the world, yet remarkably elusive. It can certainly contain joy, yet may also embody sorrow.
And although it's present in our lives every day, it's at center stage this month – on the fourteenth day, to be precise.
If we were on Jeopardy, the correct answer would be: "What is Love."
Poets, songwriters and philosophers have tried to capture its essence for generations. Some have said it's what makes the world go 'round. Some think the best love songs are written with a broken heart. Others have reminded us that we don't know what we've got until it's gone.
Search "Valentine's Day" online, and you'll find abundant folklore relating to the traditions that have led up to the
present day. Historical accounts and folklore aside, it is certainly good to have a day dedicated to acknowledge those we love and to affirm the significance of love in our lives. And while Valentine's Day probably conjures up thoughts of romantic love for most people, it's certainly necessary to acknowledge that there are all kinds of people in our lives that we "love" in non-romantic ways. We love our parents and our families. We "love" special friends. We "love" our church family. We "love" our pets. In many ways, it seems that one day out of the year is entirely insufficient to address and acknowledge all those that we love in our lives!
Valentine's Day can be a speed bump of sorts for those who are journeying the pathway of loss. As with most other holidays or days of widespread special recognition, there is always extensive media hype and barrage-level advertising, all of which must serve as a persistent reminder to the heavy-hearted that the rest of the world is clearly living the "happily ever after" we always read about in fairy tales when we were kids.
I would submit that Valentine's Day is a great day to pause and remember those who have gone on before us, those we have known in our families . . . and those from generations back we never had the privilege to know. It's also a great day to remember those with heavy hearts who have recently lost someone special. What a great day to send a card, send a flower or take them to lunch. Or just take 10 minutes for a phone call. Be the bright spot that reminds them that memories are a special gift; no one can ever take them away.
Remind them that you're thinking of them on Valentine's Day. And remind them, as Winston Churchill once said, "The farther backward you can look, the farther forward you can see."
Being a good and present friend on a challenging day is a great demonstration of love.
That makes a great Valentine.
And it helps them Remember Well.
David W. Deuth, CFSP, is a funeral director and the owner of Weerts Funeral Home in Davenport and RiverBend Cremation in Bettendorf. He can be reached at 563.424.7055 or by email at Dave@WeertsFH.com.
Filed Under: Family, Personal Growth
Trackback URL: https://www.50pluslife.com/2014/01/30/thoughts-on-love-and-valentine%e2%80%99s-day/trackback/