March 5, 2014
What's Your Plan?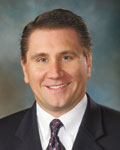 By David W. Deuth, CFSP
President, Weerts Funeral Home
Being a good and present friend on a challenging day is a great demonstration of love.
Let's be honest. Most everyone wants to retire one day. Even though I find great meaning in the work that we do, I hope to retire one day, too!
Just suppose someone wakes up one morning and decides to retire. That very day. Hadn't really given any thought to it before, hadn't done anything to prepare for it, hadn't saved in any way for it; just decided "this is it – I'm retiring today." Let me ask: what kind of retirement do you think this person would have?
Unless they were independently wealthy, the reality of their unpreparedness would hit them hard soon enough as everyday living expenses would quickly pile up . . . and little or no income with which to pay the bills. I don't expect their retirement would last too long or be any too rosy!
Most people understand that preparing for retirement is a long and continual process that begins a long, long time before we can even begin to entertain the idea of actually retiring. For most of us, it takes good advice, proper planning, a whole lot of "stick-to-it-iveness" and a whole lot of discipline.
The retirement reality is this: Some people will retire early. Some will retire when they intend to. Others will have to work longer than they intended in order to retire. And, others might never have the chance.
It's probably not too difficult to imagine that some people never plan ahead for the most inevitable of all life's circumstances. We see it every day: someone dies, expectedly or not….and what they leave behind is no plan, no direction about what's important to them, no guidance about what they would like . . . and no financial planning to help the ones they care most about.
And, as a result, we see circumstances where the surviving family has a lot of scrambling to do in order to figure out where to start, what to do…and how to afford what's meaningful to them.
Corollary: Not unlike planning for retirement, final expenses are often best managed by planning ahead. Many have heard me say for years now that everyone needs a Plan, with a "capital P" — things like a Will, Living Will, Advance Directives, Powers of Attorney for Legal/Financial and Healthcare matters…and a Final Wishes plan. And, just as good retirement planning requires occasional reviews and updates in order to properly adjust to any number of circumstances, so your overall Plan – with a capital P – should be reviewed every five years, or anytime birth, death, marriage or divorce affect your immediate family.
And, just as there is a reality for retirement planning, there are some realities for Final Wishes planning, too: Some people will plan ahead. Some know they SHOULD do it, but will put it off. Others will think it isn't necessary. And, others might never have the chance.
Oh, and there's one other thing: While there's a definite corollary between the compelling need for both retirement planning and Final Wishes planning, it's important to know that there is one very significant difference between the two: Not everyone who plans for retirement will actually retire; any number of circumstances may arise which could pre-empt that. But everyone, whether they have a Final Wishes plan or not, needs to know that their family will have to sit down with a funeral director one day to make some kind of final arrangements. And the reality of any unpreparedness will hit them hard soon enough . . .
So, what's your plan? Will they be able to . . .
Remember Well?
David W. Deuth, CFSP, is a licensed funeral director who owns Weerts Funeral Home in Davenport and RiverBend Cremation and Quad Cities Pet Cremation in Bettendorf.
He can be reached at (563) 424-7055 or by email at Dave@WeertsFH.com.
Filed Under: Retirement
Trackback URL: https://www.50pluslife.com/2014/03/05/what%e2%80%99s-your-plan/trackback/