April 3, 2014
April means "To Open"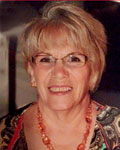 By Eloise Graham
Tracing the origin of the word April, I find that it comes from the Latin word aperire, which means "to open." The Romans named this month Aprillis, the French call it Avril and the Spanish say Abril. No matter the language, in the northern hemisphere, April is the month that trees bud out and flowers open up. We do some opening ourselves! Open the windows of the house, drive with the car windows open, open up the ground for planting
and seeding. I see April as a new beginning, a fresh start.
Autism Awareness Month, Jazz Appreciation Month, National Poetry Month, Parkinson's Disease Awareness Month, Confederate History Month, National Child Abuse Prevention Month, among many others are celebrated in April.
Some parts of Southeast Asia begin their New Year in April. Thailand celebrates the Songkran festival as the traditional New Year's Day from April 13 to 15. Laos has the same three-day celebration, also called Pheebmai. Burma, now called Myanmar, celebrates Thingyan, the Burmese New Year water Festival on April 17. Cambodia uses the name of Khmer New Year celebration for their three-day festival usually starting on April 13. These dates have their significance in the Buddhist religion.
April birthdays of some famous entertainers are: Jane Powell, Debbie Reynolds, Ali MacGraw, Buddy Ebsen, Sir Alec Guinness, Jack Webb, Marvin Gaye, Dana Carvey, Marlon Brando, Doris Day, Wayne Newton, Tony Orlando, Alec Baldwin, Eddie Murphy, Rick Schroder, Muddy Waters, Cloris Leachman, Craig T. Nelson, Robert Downey Jr., Spencer Tracy, Bette Davis, Gregory Peck, Frank Gorshin, Michael Moriarty, Merle Haggard, Billy Dee Williams, John Ratzenberger, Marilu Henner, Candace Cameron, Billy Holiday, James Garner, Wayne Rogers, Janis Ian, Jackie Chan, Russell Crowe, John Gavin, W.C. Fields, Michael Learned, Dennis Quaid, Harry Morgan, Chuck Connors, Omar Sharif, Steven Seagal, Joel Gray, Louise Lasser, Bill Irwin, Ann Miller, Jane Withers, Tiny Tim, David Letterman, David Cassidy, Andy Garcia, Claire Danes, Don Adams, Ron Perlman, Peabo Bryson, Rod Steiger, Loretta Lynn, Julie Christie, Brad Garrett, Elizabeth Montgomery, Roy Clark, Emma Thompson, Charlie Chaplin, Peter Ustinov, Edie Adams, Bobby Vinton, William Holden, Barbara Hale, Hayley Mills, Conan O'Brien, Dudley Moore, Kate Hudson, Ashley Judd, Ryan O'Neal, Jessica Lange, Anthony Quinn, Charles Grodin, Tony Danza, eddie Albert, Glen Campbell, Jack Nicholson, Shirley Temple Black, Shirley MacLaine, Barbara Streisand, Carol Burnett, Bobby Rydell, Jack Klugman, Sandy Dennis, Sheena Easton, Lionel Barrymore, Jay Leno, Duke Ellington, Uma Thurman and Willie Nelson.
A dumb crook story: On April 1, 2007, two robbers, in Australia, stole a bag of rolls from a bakery. They thought it was a bag of money. Then, as they were making their get-a-way with what they thought was money, one accidentally shot the other in the buttocks. The Melbourne judge told them that they were a 'pair of fools' before sending them to jail for their April 1st crime.