April 3, 2014
For the Kids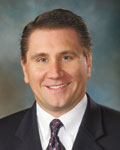 By David W. Deuth, CFSP
President, Weerts Funeral Home
Something significant happens at our house in April each year:
Our daughter, Maddy, has a birthday.
And this year she'll be 21!
Like every parent, we're very grateful for our kids and the joy they've brought to our lives. And, like most other parents probably do when their baby turns 21, Linda and I have said to each other recently, "Yikes! How did this happen? Where has the time gone?? It seems like just yesterday that…."
And then we trail off into the emotional recollections of some very challenging days many years ago when we weren't given all that much assurance that she'd even see her fifth birthday. Longtime readers of my writings here might remember an article from several years ago which recalled just a glimpse of her medical mystery that would go undiagnosed for years. A blood transfusion saved her life just weeks before her fourth birthday . . . and prompted me to become a blood donor.
A recurrence of her symptoms four years later landed us in the care of the Pediatrics Department of the University of Iowa Hospital, who provided an accurate diagnosis of an extremely rare condition: Idiopathic Pulmonary Hemosiderosis (translation: collection of blood in the lungs of unknown origin). Subsequent and ongoing care was provided by some amazing doctors at the Mayo Clinic, who prescribed the proper pharmacological treatment and lifestyle guidance over a period of nearly a dozen years.
So rare is this condition that Mayo has treated only 30-some cases – ever. Nevertheless, we are so grateful that we were guided there. I vividly remember the day when Dr. Pianosi told us that she was his first patient with IPH to make it to 15…
Today, Maddy is an absolute, real-life medical miracle. It's never been lost on us how blessed we have been since that terrifying day 17 years ago. And it's never been lost on Maddy that God has blessed her with another chance at life.
Now a junior at the University of Northern Iowa, she is a Resident Assistant in one of the dorms, a Dean's List student (had to mention that!) studying to become a teacher, and has championed a campus cause that is very close to her heart. It's called Dance Marathon, (we've come to know it as DM)…but dancing isn't the focus. Dancing becomes the way to raise funds for the Children's Miracle Network – and specifically for the Pediatrics Department at the University of Iowa Hospital. Just weeks ago, their campus DM event raised over $176,000!
When Maddy received her blood transfusion 17 years ago, I realized that someone had to donate that blood in order for her to receive it. It didn't take me long to decide that I could "pay it forward" to someone else by doing the same;
I'm currently working toward my 7 gallon pin at Mississippi Valley Regional Blood Center.
And Maddy, once a pediatric patient herself, is choosing to "pay it forward" to other kids and their families through her efforts on the executive team for DM. We think that's pretty cool for all kinds of reasons.
We've become pretty familiar with the DM motto at our house. "For the Kids" . . . or sometimes just "FTK".
It's simple. It's poignant. It means a lot to us.
And even more to her.
Happy birthday, Maddy – we're so very proud of you! Pay it forward . . . FTK.
We Remember Well . . .
David W. Deuth, CFSP is a funeral director and is the owner of Weerts Funeral Home in Davenport and RiverBend Cremation and Quad Cities Pet Cremation in Bettendof. He can be reached at 563.424.7055 or by email at Dave@WeertsFH.com.