April 3, 2014
On the Go With Joe Hutter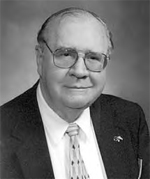 Seniors And Law
Enforcement Together (SALT)
By Joe Hutter
April is finally here. In Iowa, we just finished the ninth coldest winter in 141 years. I haven't heard about our neighboring state, Illinois.
We all get something in the mail almost every day asking for money. One of the requests I just received was from the nonprofit "Help Hospitalized Veterans." The return envelope had a Washington DC address, but the administrators are in California. It had a check for $2.50 made out to me. You are supposed to return the check and a gift. The money sent to them would go for bugles for playing TAPS at funerals, for Valentines for Veterans Concerts, etc.
After doing some checking about "Help Hospitalized Veterans," I found out that in September 2013, they paid a fine in the amount of 2.5 million dollars to the state of California. CNN investigated the charity, also. This has been going on since 2008. Money was used for country club memberships, condo purchases in Florida, and large salaries for their executives. One thing the money was used to buy was craft kits for veterans to make paper airplanes.
Another request I received was from "International Fellowship of Christians and Jews." The salary in 2011 for the CEO was $784,193.00. 22 percent of donations go for fund raising and administration costs. Rabbi Yechiel Eckstein is the Founder and President of the charity.
You need to be very careful who you donate your money to and what it is used for. There is even a nonprofit organization in the United States where only three cents of every dollar is used for a program.
A message to parents and grandparents of high school students who play a musical instrument. The Catfish Jazz Society of the Quad Cities is giving scholarships up to $1000.00 to help students with college costs, or $500.00 for high school students to attend a band camp. They have been awarding the scholarships since 1999. The students will audition for the Catfish Jazz Society Sunday afternoon, April 13, May 4, or June 8. On July 13, the awards will be given to the students who were chosen.
If you are interested in helping your children with college costs, contact Kirk Prebyl, Chairman of the Catfish Scholarship committee at (563) 349-6710 or email catfishjazz@yahoo.com. There are no requirements except that they love music.
We meet at CASI (Center for Active Seniors, Inc) Davenport the fourth Wednesday of every month at 9:30 a.m. You do not need to be a member to attend.
For more information on the S.A.L.T. program, call Pam, at the Scott County Sheriff's Office at (563) 326-8217.
Take care,