April 3, 2014
Seafood on the Grill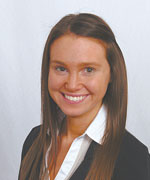 By Kim Denman, RD, LD
Hy-Vee Registered Dietician
(563) 322-8496 kdenman@hy-vee.com
Cooking seafood, especially fish, provides healthy protein that cooks even quicker than most meats.
Being the month of April, it is officially the beginning of grilling season. It might not be warm enough to break out the shorts and flip-flops, but it's time to get those grills fired up!
Most people know that seafood is good for them, but are not confident enough in their cooking skills to prepare it on a regular basis. When grilling, most turn to beef, chicken and pork on the grill because they feel comfortable cooking them, not realizing how easy it is to grill seafood. Cooking seafood, especially fish, provides healthy protein that cooks even quicker than most meats. Since the launch of Hy-Vee's Responsible Choice seafood program, you can feel good about purchasing seafood from our stores, knowing that we only purchase seafood from sustainable sources.
Here are some tips to make your seafood grilling quick and easy:
• Place fish in a grill basket or wrap in aluminum foil to
prevent it from sticking to the grill.
• Only turn fish/seafood once, halfway through the cooking time.
• When preparing shellfish such as clams, mussels and
oysters, you'll know they are done cooking when the shells start to open.
• When grilling shrimp, bigger is better. Jumbo shrimp (approximately 12- 15 pieces per pound) will serve you best when preparing shrimp on a skewer or directly on the grill.
Salmon Grilled in Foil Recipe
Serves 4
All you need:
• 4 salmon filets (4 ounces each)
• 2 tablespoons olive oil
• 1 teaspoon sea salt
• 1 teaspoon fresh ground pepper
• 1 small onion, cut into rings, divided
• 16 cherry tomatoes, divided
All you do:
1. Brush salmon filets, on both sides, with olive oil.
2. Place salmon, skin-side down, on a double-thickness of heavy-duty foil (a size of about 12 inches by 18 inches).
3. Sprinkle salt and pepper over salmon, then top with onion and tomatoes.
4. Fold foil over fish and seal tightly.
5. Grill, covered, over medium heat for 10-15 minutes or until fish flakes easily with a fork.
The information is not intended as medical advice. Please consult a medical professional for individual advice.
Filed Under: Health & Wellness
Trackback URL: https://www.50pluslife.com/2014/04/03/seafood-on-the-grill/trackback/