April 29, 2014
The role of an Elder Law attorney in your family's life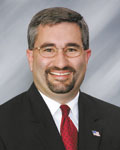 By Curt Ford
Nash Nash Bean & Ford
As the population in the United States ages, issues relating to the elderly have become a bigger concern. Health care issues, social issues, and legal issues are all studied, discussed, and analyzed as they apply to the elderly in the 21st century. Given the fact that the elderly population in America is
expected to outnumber the young population (under 21) by the year 2050, it only makes sense to focus on issues that the elderly face. Among those who have chosen to focus on issues faced by the elderly are elder law attorneys. Whether for a parent or some other loved one, it is likely that you will need the services of an elder law attorney at some point in your life. Because of that, it is beneficial to know exactly what an elder law attorney does.
Elder law is a relatively new area of the law. It wasn't until the late 1980s that elder law became a recognized area within the legal profession. As the number of older Americans began to grow at a noticeable rate, attorneys began to recognize the need for legal professionals who understand the legal needs of the elderly and those who care for them. Elder law is a very distinct area of the law that requires an attorney to have a broad knowledge base from which to draw when advising and advocating for clients. Unlike an area such as contracts where an attorney focuses on a fairly narrow set of case law and precedent when advising and assisting clients, elder law often draws from numerous areas of the law when deciding how to solve a legal problem. For example, if a family member is concerned that an elderly loved one is showing early signs of dementia, an elder law attorney must consider how to plan for incapacitation, how to address the long-term care issues, and how to ensure that the elderly individual will qualify for Medicaid to cover the costs of the long-term care that will eventually be needed in most cases.
In summary, an elder law attorney is an attorney who has made the decision to work on the needs of the elderly – not just on specific legal issues. An elder law attorney will often work closely with social service providers, healthcare workers, and the client's family members to find legal solutions to complicated problems faced by the elderly.
Next month we'll discuss questions to ask when you're looking for an Elder Law attorney.
Nash Nash Bean & Ford are members of the American Academy of Estate Planning Attorneys and the National Academy of Elder Law Attorneys. To receive a copy of our most recent newsletter "Your Estate Matters" or for a free consultation on Estate or Long Term Care Planning, call 800-644-5345, email info@nashbeanford.com or visit our website at www.nashbeanford.com, where you may also link to our blog and Facebook page.
The firm devotes its practice primarily in the areas of estate, business and tax planning and related areas of the law, as well as elder law and trust administration and probate. We offer guidance and advice to our clients in every area of estate planning.
This column is designed for general information purposes only, and is not intended, nor should be construed or relied upon, as legal advice. Please consult your attorney if specific legal information is desired.
Filed Under: Finance
Trackback URL: https://www.50pluslife.com/2014/04/29/the-role-of-an-elder-law-attorney-in-your-family%e2%80%99s-life/trackback/