April 30, 2014
Older American's Month, Mother's Day History, and Codell, Kansas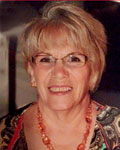 By Eloise Graham
May Is Older American's Month
Each May, the nation celebrates Older Americans Month to recognize them for their contributions and provide them with information to help them stay healthy and active. This year focuses on injury prevention with the theme Safe Today. Healthy Tomorrow.
When Older Americans Month was established in 1963, only 17 million living Americans had reached their 65th birthdays. About a third of older Americans lived in poverty, and there were few programs to meet their needs. Interest in older Americans and their concerns was growing, however. In April of 1963, President John F. Kennedy's meeting with the National Council of Senior Citizens served as a prelude to designating May as "Senior Citizens Month." Thanks to President Jimmy Carter's 1980 designation, what was once called Senior Citizens Month, is now called "Older Americans Month," and has become a tradition.
Historically, Older Americans Month has been a time to acknowledge the contributions of past and current older persons to our country, in particular those who defended our country. Every President since JFK has issued a formal proclamation during or before the month of May asking that the entire nation pay tribute in some way to older persons in their communities. Older Americans Month is celebrated across the country through ceremonies, events, fairs, and other such activities.
The History of Mother's Day – A Labor Long of Love
Mother's Day has its origins in ancient Greek and Roman festivals dedicated to maternal goddesses. A more modern version of Mother's Day began in the 1600s in England, with Mothering Sunday, which was celebrated on the 4th Sunday of Lent. In 1872 in the US, Julia Ward Howe, famous for writing the words to the Battle Hymn of the Republic during the Civil War, began promoting Mother's Day as one dedicated to peace. During the second week in May of 1905, Anna Jarvis from Philadelphia was mourning the loss of her mother, Ann Marie Reeves Jarvis. Her mother was an inspiration to Anna, and in 1907 she held a memorial and campaigned to establish a national Mother's Day.
On May 14, 1914, President Woodrow Wilson signed the Mother's Day Proclamation. The second Sunday in May was officially declared Mother's Day in the United States, and an International Mother's Day Shrine was erected in Grafton, West Virginia, the childhood hometown of Anna Jarvis, to commemorate her achievement. The modern Mother's Day is celebrating 100 years this year.
Codell, Kansas and the Tornadoes of May 20th
Codell , Kansas is a small unincorporated village in Western Kansas located south of Stockton and north of Hays. The population is just under 3,000. Average income is $35,000 and home value is $42,000. A small poor community with a history rich in tornadoes. The night of May 20, 1918 a tornado whipped through the town destroying much of it and killing 10 people. May 20 had been dubbed "Cyclone Day." Earlier that day, many town's folk joked about the moniker. It had been called "Cyclone Day" because on May 20, 1916 a cyclone, or tornado, went through the town. But then, again, on May 20, 1917 another cyclone blew through the town. They certainly did not think it could happen a third time. This third tornado was the worst and the only one with fatalities.
Filed Under: History
Trackback URL: https://www.50pluslife.com/2014/04/30/older-american%e2%80%99s-month-mother%e2%80%99s-day-history-and-codell-kansas/trackback/