April 30, 2014
On the Go With Joe Hutter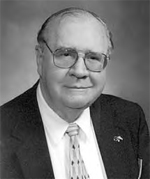 Seniors And Law
Enforcement Together (SALT)
By Joe Hutter
Finally spring has sprung. Warm weather not only makes the grass grow and tulips bloom, but it also brings out people who want to repair your home. Before you agree to any work being done, ask for references and actually call them. Get written estimates or bids on the work you want done.
Watch for contracting scams. Don't fall for the contractor who drives an unmarked truck. There is no "big discount" for you or anyone. Talk to your children, friends and neighbors if you need work done to your home.
Last month, the RSVP Program had recognition programs for volunteers. Many of the over 1000 volunteers volunteered over 10,000 hours of time at various locations. The programs started with Becky Lee Hinton singing the National Anthem. Becky works at the Fountains in Bettendorf and has even sung at a Chicago Cubs game. Beth Martinez, RSVP Advisory Council President, also welcomed Congresswoman Cheri Bustos' staff member Miranda French and Senator Mike Jacobs. Master of ceremonies was a member of the Bettendorf City Council, Scott Naumann.
The Retired and Senior Volunteer Program started in our area in 1973. If you are 55 or older, you can become a volunteer. It is a national program and provides training and on-going support for volunteers. There are over 100 locations that use volunteers in our area. Supplemental insurance is available, including accident and liability insurance while you are volunteering. If you want more information, call (309) 793-4425. The program is sponsored by Western Illinois Area Agency on Aging.
The volunteers in the S.A.L.T. (Seniors And Law enforcement Together) program are members of RSVP but it is not necessary for you to come to our meetings. SALT was created by a sheriff in Texas and spread throughout the United States. When the program was approved by the International Association of Police Chiefs, the National Sheriff's Association and AARP, the 3 groups become known as Triad. We exist to inform seniors about crimes in which seniors are the targeted victims. Seniors are trusting people and there are always people who want to take advantage of their kindness.
If you would like to attend a meeting, we meet at Center for Active Seniors (CASI) on Kimberly Road in Davenport, the fourth Wednesday of every month at 9:30 a.m. Everyone is welcome, regardless of age. For more information, contact Pam at the Scott County Sheriff's Office at (563) 326-8217.
Take care.
Filed Under: Community
Trackback URL: https://www.50pluslife.com/2014/04/30/on-the-go-with-joe-hutter-55/trackback/