June 5, 2014
June Recognitions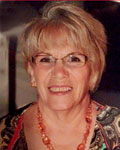 By Eloise Graham
The first recognition I would like to make is to Russ Myers, the founder and original owner of 50+ Lifestyles. Russ will be celebrating a birthday on June 23. In 1987, Russ had the insight to plan for a local magazine geared for the over 50 population. He led the way in our local market. Now there are over eight publications geared toward the senior set. Way to go Russ, and have a happy birthday!
The second recognition would be June 14, Flag Day. That is the date set aside to honor the United States flag and to
commemorate its adoption as our flag. On June 14, 1777, the Continental Congress replaced the British symbols of the Grand Union flag with a new design of the thirteen white stars in a circle in a field of blue and thirteen red and white stripes, one for each state.
After the long, cold winter that we endured, we definitely have to recognize June 21, Finally Summer Day (the summer solstice.) In England there is a festival at Stonehenge. It is estimated that more than 20,000 people celebrated the longest day of the year at the ancient pre-historic site.
Another mainstay that we always recognize is Father's Day. This year it will be Sunday, June 15. This is a time to remember the fathers, grandfathers, uncles, older brothers, coaches, pastors and teaches that influenced our lives.
A few other bizarre and unique June holidays to recognize: 1, Flip a Coin Day; 2, Rocky Road Day; 3, Repeat Day (I said 'Repeat Day'); 4, Hug Your Cat Day; 5, World Environment Day; 6, Yo-Yo Day; 7, Chocolate Ice Cream Day; 8, Best Friends Day; 9, Donald Duck Day; 10, Iced Tea Day; 11, International Day of Solidarity; 12, Red Rose Day; 13, Sewing Machine Day; 14, Juggler's Day; 15, Smile Power Day; 16, Fresh Veggies Day; 17, Eat Your Veggies Day; 18, Go Fishing Day; 19, World Sauntering Day; 20, Ice Cream Soda Day; 21, Go Skate Day; 22, Chocolate Eclair Day; 23, Pink Day; 24, Swim-a-lap Day; 25, Log Cabin Day; 26, Forgiveness Day; 27, Sun Glasses Day; 28, Paul Bunyan Day; 29, Waffle Iron Day; and 30, Meteor Day.
Filed Under: History
Trackback URL: https://www.50pluslife.com/2014/06/05/june-recognitions/trackback/