June 5, 2014
Max's Musings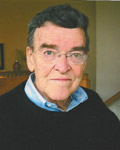 By Max Molleston
Spring rains are always a little scary if they deliver lots of runoff to flood urban and rural areas. Some of that did take place, if you are up on the latest reports on the tube (TV), or those smaller electronic "look at me" carriers. By June, all of that should be over here in the upper Midwest, where "agronomic" crops should be in and up, showing some potential for cash flow later.
Are there still June Brides? I mean, is it still the month to be wed? Rhoada and I were wed on June 28, 1964, which means she was barely a June bride. She has now been my bride for a half-century, farm girl that she is, putting up with many challenges over that period, including her husband.
I gifted a classmate with my most recent book of poems. She emailed me that she enjoyed our class reunion and some of my poems, and she was stopped by one titled,
Some Choices
Time does not run out,
it runs in our direction,
in our time, allowing all things.
We stay where we are,
in and out of all kinds of scenes,
noticed as we present ourselves.
A child passes you on a journey,
men and women on their way.
Do these journeys end today?
Today, this week, and months ahead
plans can roll into misty goals where
chances are from futile to fruitful.
On this day your writer sends fruitful years,
whenever or however they sweep ahead for you.
I never considered Some Choices as a poem of mystery, yet the question mark after "Do these Journeys end today(?)" sets up a quandary or two: questions that may gain solutions somehow. This poem seeks truth, not fantasy, even if a range of solutions "run from futile to fruitful." Our lives, lived out, find living solutions ending not just half way, but futile to fruitful. OK. Most of us close out portions of our lives, separately or together, "half way," in a place where enjoyment has meant compromise. Settlements that may have produced emotional statesmanship.
Enough of the "head-banging" stuff. Some columns, like them or not, turn out to be me examining my poetry. That is not bad for me, the writer, but it may cause some glazing over of eyes and minds for you readers. I'll close this effort with another of my own poems, and this one, although scribed as a whimsy, may get to you 50+ers.
Older
Before you get older, consider what's involved.
It's enough to know that not everything is solved.
If it's right, older is a brew that's steeping, not
boiling. If older is young it's because of care.
Some think it's more we have with age,
and others feel we look more sage.
Most will just say "we've turned another page."
This effort was early as a poetry "trier," and it has some good rhyme, a place where everyone wanting to write verses should begin. It has been fun putting together this column from my experiences, a half century of marriage to Rhoada and a couple of my poems that search for the truth, even though poetry often wants to place a mask on emotions and activities that appear to us as out of place, or embarrassing. I do happily admit that hiding truth can be fun, especially on a sheet of paper.
Coming up is July, a sunny, hot summer month where adventures on vacations and at county fairs, and other variances bring delight. Join me here for all that fun!
Filed Under: Featured, Personal Growth
Trackback URL: https://www.50pluslife.com/2014/06/05/max%e2%80%99s-musings-55/trackback/