June 6, 2014
In and Out of the Quad-Cities: Los Alimentos de nuestros Padres
Contributed by Gail McPike and Toni Hall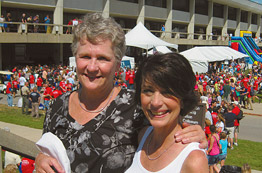 You are probably wondering about the title. A few years ago, one of our favorite singers, Linda Ronstadt, did an album called "Canciones De Mi Padre." Roughly translated (our Spanish is close to nada) this means "the songs of my father." Not to be outdone by a cute singer gal from Tucson, we took the artistic license of overlaying our report with a romantic sounding title. And just in case your abilities in the "habla Espanol" department mirror our own, the title translates to "The Foods of our Fathers." With Father's Day just around the corner, we wanted to dedicate this to those special memories of dining with our dads.
Over the years, we've been blessed with the opportunity to enjoy foods from all over the world. Earlier this year we celebrated the New Year with panoramic rooftop dining at Puerto Vallarta, Mexico's Hacienda San Angel. With Mariachi singers serenading our table and the spectacular view of the old city, we supped on amazing specialties of the region and soaked in the warm breezes. Our taste buds have experienced the best of Continental, Asian, California fusion and the curries of the Indian subcontinent. For a short while, Daughter Rosie worked at an Ethiopian restaurant in Iowa City, so we have Africa covered, too. All of these are strange and wonderful, but nothing quite compares to those special meals we enjoyed with that most special guy – our fathers. So join us now as we explore some of those special moments.
Let's set the stage by describing the time. Our memories take us back to the 1950s. It was a special moment as we hopped into our dad's car and headed off for a meal-time adventure. It was the first of a car generation. America had just come out of a couple of terrible wars. A new prosperity washed over the county. Dads had cars. Actually, dads in those days had personal relationships with their cars. Gail's daddy was a Rambler man. Toni's father was a devoted Oldsmobile driver. To our delight, going out with dad involved a ride.
For Toni and her father, "the ride" was a shiny white 1958 Oldsmobile. For those of you who may have forgotten, the Oldsmobile was a big lumbering albatross of a vehicle; chromey and massive on the outside and cavernous inside. Seatbelts and bucket seats were definitely not part of the equation. Windows were meant to be rolled down on the ride!
Cruising through town, windows down, air flowing across their faces, Toni and her dad headed to their favorite spot – the local Dog n' Suds drive-inn. Anticipation built as the car was maneuvered into the parking lot. Little Toni could feel her young taste budlettes start to quiver in anticipation of the splendid meal about to take place.
Hopping down from the big bench seat and following her dad to the window to place the order of the day only added to the treat. Dad would place the order, two chili-dogs and… two fabulous Root Beer floats, please. Once placed on the handy carry out tray, the food was brought back to the vehicle where napkins stood at the ready; just in case there was the dreaded hot dog slip or mustard drip. The rest was pure magic.
Meanwhile just 100 miles away in another part of Oklahoma, Gail and her papa were readying themselves for a similar dining experience. Gail's dad was a Rambler fan and a hamburger man. Nearly every weekend for young Gail involved a drive from native Bartlesville to Tulsa to visit her granny and other Tulsa area relatives. A special moment during those visits involved driving to one of her father's favorite hamburger joints.
For our younger readers, hamburger hunting was different back in the 1950s. We're talking about an age when McDonalds was still a small chain. And even though Vinita, Oklahoma, just 60 miles away, would someday lay claim to the "biggest McDonald's on the Planet," Tulsa was still 99.9 percent Mickey D free. One common stop on the hamburger hunt was Hank's Hamburgers.
Located on a busy street in the northeast corner of Tulsa, Hank's Hamburgers was one of those "ma-pa" places that sprung up across America following the war. Founded in 1949, Hank's Hamburgers was instantly selected by Gail's dad as the go-to spot for burgers.
And now, for a bit of bragging rights; Gail's dear old daddy must have been a great judge of the culinary arts. Now, many years later, the fame of Hank's Hamburgers continues to spread. We're talking about a non-descript concrete block building with an open grill which made the New York Times and has been listed in USA Today 2013 list of the 51 best burger joints in America. But, back to the reminiscing still in progress…
Gail's dad loved hamburgers, and he loved onions. Upon entering Hank's, he ordered a sack stuffed with the specialty of the house: burgers with onions grilled into the meat. But that wasn't the end of the onion feast. He had the burgers loaded up with raw onions and pickles, too. We believe this may be a hereditary trait. To this day, Gail loves her hamburgers. And she always gets them with a big slice of onion.
Both of our fathers have passed. Father's day is different now. But we still celebrate our dads. Their memories live on. Every time we sink our pearly whites into a juicy hot dog or hamburger, or quaff down a root beer, we get a special flashback to those wonderful times. Celebrate your dad, treat yourself. Happy Father's Day.