July 2, 2014
In and Out of the Quad-Cities: Aging with Time, like Yesterday's Whine
Contributed by Gail McPike and Toni Hall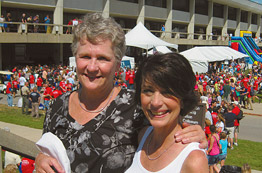 We've been enjoying wines since age six. Shocking story, considering our staunch Oklahoma raising. Give us just a moment to give you the lowdown. It was a lovely July day. The sun was shining, the cute little baby robins were chirping in the tree, the bravest of the cricket family in the bushes behind the house were trying out fiddle tunes and we, well, we were bored. And, a little wine came in handy.
As is the case today, we enjoyed a variety of wines. Depending on our mood and time of day, the wine ranged from fruity to tart, full bodied to light and crisp. But the effect was always intoxicating.
Did we happen to mention, our childhood wine was more aptly spelled with an "h"; as in whine. Of all the different choices available, our favorite whine was "Mom, there's nothing to do."
Amazingly, we have discovered some of our 50+ friends seem to have reverted back to that favorite of our younger days. We commonly hear full grown men lifting their pinkies to the sky with whines of lack of activities in the good old QCA. To that extent, we want to review the options of just one month in the heart of the heartland.
The Mississippi Valley Blues Festival
Our Blues Fest is the best. This year the Blues Fest will run on July 3rd to July 5th. This is a three-day event, with music running from noon until as late as we can stay up. This is a great place to spend the day sitting under a shade tree and listening to music and watching the crowd go by. This year happens to feature some amazing acts. Toni's local favorite Ernie Peniston will play on Thursday the 3rd.
If you haven't heard Ernie sing, you're missing the boat. Ernie hales from Muscatine and has been singing professionally for over 40 years. He was part of the 80's Minneapolis music explosion, and he and his band "The Time" were featured in a couple of big time movies. Mr. Peniston (forgive us, Ernie) is not only great to hear, but he is a hoot to see in person. We'll be there.
Current Trophy Husband (CTH) Frank has been rattling on about the accordion as the ultimate Rock-n-Roll instrument for months now. Why the sudden fascination with accordions? This year's Blues Fest brings Terrance Simien and his Louisiana Creole flavored music to Davenport. If you aren't "hep" to Louisiana music, let us just say this. Zydeco (the name of the music style) is to music as Tabasco is to food. It's hot, hot and hotter. Our guess is you won't be able to sit down and close your eyes for more than 10 seconds without smiling and tapping your toes.
The Bix-7 Race
On the other end of July (actually the 26th) comes the Bix-7 road race. Each year world famous racers from every continent gather in the good old QCA to run the seven mile Bix Road Race. We are talking nearly 20,000 people. This isn't your typical world class event. First, it's in our hometown and easy to watch. Secondly, the race is only part of the spectacle. As in years gone by, a good many people will participate dressed as Elvis, Marilyn Monroe and Super Man. A group of Palmer Students dress as the human spine for their run.
And this year… a drum roll please… our own Gail has committed to participate. If we were rich and famous big city reporters, we'd bill this as a rare public appearance, but you know the drill. Regardless, Gail and her Kosovo grandkids, Elbasan and Remzie Tafa will be fast walking the seven mile course. Bring your lawn chair and camera and cheer them on.
During the same weekend, be sure to mark your calendar for the Downtown Davenport Street Fest. Part music festival, part art fest and totally great for fetching a funnel cake, this is a great family outing right in center of the rapidly rising Downtown Davenport.
But wait there's more
We know what you're thinking. Heat, humidity, bugs and sunburn. I want to spend my time in air-conditioned comfort. We are also thinking about the 3D spectacle showing at The Putnam Museum; Titans of the Ice Age. This National Geographic documentary transports the viewer back to the frozen landscapes of the Great Ice Age ten thousand years before modern civilization. We're talking about computer generated mammoths, giant sloths and saber-toothed tigers. And it's showing on the giant state of the art screen for a fraction of the cost in Chicago, St. Louis or some other big city. If you go and happen to see us in the crowd, say hi and share your pop-corn.
We haven't been, but we're going
We've laser focused in on July, but there is one event on our personal to-do list for summer. Do you remember Roller Derby? Back in our younger days, our local TV station's weekend programming always included a little Roller Derby. We thought the sport had gone the way of gators and spats, but last year we discovered the QCA has a Roller Derby Team. We are marking out calendar for Saturday August 23rd, when the QCA's premier all-female flat track team – The Quad-City Rollers– host their 5th home game.
And you said there was nothing to do…