July 2, 2014
Sweeten Up Your Summer with Melons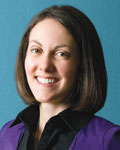 By Chrissy Watters, MS, RD, LDN
Hy-Vee Registered Dietician
Clinton Hy-Vee
(563) 243-6162
Melons are a refreshing sweet treat during the hot summer months. Most people love a juicy wedge of watermelon, cantaloupe or honeydew, but don't realize these melons come with health benefits like all other fruits and veggies. In fact, all three varieties contain potassium and fiber. They are also known for their high water content, so eat up to stay hydrated in the summer heat! Curious about other benefits? Remember that the super powers of fruits and vegetables are in their color. Cantaloupe's orange color means extra vitamin A (think eye health and immunity), while we can thank the powerful antioxidant lycopene for the pink color of watermelons (lycopene is known for its potential cancer-fighting properties).
Choosing a Good Melon
• All melons should feel heavy for their size, indicating plenty of juice inside.
• Watermelon: Look for the "yellow belly" – a flatter yellowish spot, which indicates it sat on the vine to ripen.
• Cantaloupe: Smell: If it doesn't have a smell, it likely doesn't have a taste either. Touch: The skin should give a little without feeling mushy.
• Honeydew: Look for a golden color. Brownish freckling is fine and hints at a sweet melon. Smell: Sweet. Touch: Firm, but not hard. Listen for seeds rattling inside when gently shaken.
Melon and Chicken Pasta Salad
Makes: 6 servings (1-1/3 cups each)
All You Need:
Dressing: 1 clove garlic, minced
? tsp. salt
? cup low-fat buttermilk
? cup low-fat mayonnaise
3 tbsp. chopped, fresh tarragon, or 1 tbsp. dried
1 tbsp. Hy-Vee distilled white vinegar
Pasta Salad:
8 ounces (about 3 cups) whole-wheat bowtie pasta
2 cups cubed cantaloupe or honeydew melon
2 cups thinly sliced baby spinach
2 cups cubed or shredded cooked chicken
? cup Hy-Vee dried cranberries
? cup (about 3 ounces) chopped prosciutto
Freshly ground black pepper, to taste
All You Do:
1. To prepare dressing, mash garlic and salt in a medium bowl with the back of a spoon into a chunky paste. Add the buttermilk, mayonnaise, tarragon and vinegar; whisk until combined.
2. To prepare pasta salad, cook pasta in a large pot of boiling water, according to package directions. Drain, transfer to a large bowl and let cool. Add melon, spinach, chicken, cranberries, prosciutto, pepper and the dressing; toss to coat.
3. To make ahead, cover and refrigerate, undressed, for up to 1 day. Toss with dressing about 1 hour before serving.
Nutrition Facts per Serving:294 calories; 6 g fat (2 g sat, 1 g mono); 54 mg cholesterol; 633 mg sodium; 38 g carbohydrate; 4 g fiber; 3 g added sugars; 25 g protein
Source: EatingWell.com
This information is not intended as medical advice. Please consult a medical professional for individual advice.
Filed Under: Health & Wellness
Trackback URL: https://www.50pluslife.com/2014/07/02/sweeten-up-your-summer-with-melons/trackback/