July 31, 2014
Max's Musings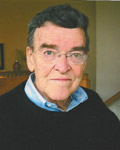 By Max Molleston
Our Quad-Cities is blessed to have many layers of poets, in age range from eight to eighty. I have worked with many who compose verse, and know their work is journeyman or exceptional. This month, I work to reacquaint you with three men. Mike Bayles will be giving a reading at the Bettendorf Library on August 13 as part of the ongoing series selecting poets and authors to read their work for an audience. Mike has released his latest book of poems titled Threshold containing 34 of his poems. Here's:
Stirring the Mix
wind brings rain
updrafts and downdrafts combine
stir skies and skies darken
moods ofweather
winter leaving and summer arriving
whims of nature
changing always changing
nature of whims
arriving summer and leaving winter
weather of moods
darken skies and skies stir
combine downdrafts and updrafts
rain brings wind.
The form is a palindrome reading the same backwards as it does forwards. This form enhances and reinforces his poem. I worked with Don Wooten at WHBF TV when he did TV weather. Wooten would refer to a statistic as a palindrome. Maybe some of you 50+ readers recall (and rejoice.)
Ryan Collins, MFA Poetry, instructor at St Ambrose University and Executive Director for the Midwest Writing Center, Davenport, has titled his new book of poems Remote Viewing. His initial poem is titled:
Time About Time
Time takes all the sides
Cares less than mountains
Begins begins begins again
Sees what comes of the sky
Time empties us but doesn't
Empties our fingerprints
Our dental records our forged
Documents our accounts
The mountains can't read
Time takes whatever it
Wants what it wants is more
Time same as the rest of
Us saps us singers us swords
Baby toothed baby mountains.
If we pause (time) and think, the poem is all truths about what goes on, and some of the same on a much larger scale than we normally contemplate, thanks to Ryan Collins. OK, maybe not forged documents.
Sal Marici is into another book of poetry, Swish Swirl & Sniff. Some of you Cubs fans know there is a new GM there, but the club clings to last in the central National League (what's new?) Sal gives us a fond remember of his Chicago home and Cubs, but his family favored the White Sox. This dance is his long poem, Cubs Suck. A very cute, very short effort is titled:
On A Jungle Path
The monkeys sing
"Those gringos are crazy
because they paid money
to walk in the jungle."
Sal Marici's jungle savy comes from his Peace Corps experience in Guatemala. As a retired agronomist for the Corp of Engineers his knowledge of the balances in nature shine brightly in much of his poetry. These poets have added to my knowledge and enthusiasm for poetry for decades. Join me in September when I will be a year older and perhaps, wiser.
Filed Under: Personal Growth
Trackback URL: https://www.50pluslife.com/2014/07/31/maxs-musings-3/trackback/