July 31, 2014
Paying it Forward with Pre-Planning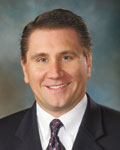 By David W. Deuth, CFSP
President, Weerts Funeral Home
Several years ago, a gentleman stopped by the funeral home the day after his mother's funeral. "I wanted to stop by and personally thank you for pre-arranging my mother's funeral here several years ago," he said. "Before she had died," he continued, "I really thought she had done her pre-arrangement for herself. Now, having followed through on those arrangements for her funeral service, I realize that it was really quite a remarkable gift to me and all my family. And I must admit," he said somewhat sheepishly, "I really didn't see it from that perspective before!"
I thanked him for taking the time to personally stop by and discuss this with me, and told him that it was important to me that he and his family had agreed that having all the details planned in advance was especially meaningful for them. Turns out I didn't have to ask any additional questions to learn more about what they had found to be so meaningful – it just poured right out of him:
"I always thought that Mom wanted to do her pre-arrangement so she could, you know, cross it off her list," he continued. "I never really thought far enough forward about it before to realize how this would help us to know what was really important to her. It was such a great feeling for my sisters and me to actually know what mom wanted…everything from scripture readings to the flowers to the songs – even the casket! It was all right there on file and we had complete confidence to proceed without hesitation because we knew everything was exactly what she had wanted."
That, I responded, is the most beneficial thing about pre-arrangement: knowing that they could follow their mother's wishes and not have to second-guess about what she would have wanted.
While he didn't disagree that this was extremely important, he was quick to correct me from his recent personal experience: "The BEST thing," he concluded, "about my mother's funeral being pre-arranged was that instead of having to spend all our time making decisions and digging through family records and the safety deposit box for all the specific information, we could instead spend that time together as a family remembering all the good things about our mom. THAT was the best part! We had a very special time as a family doing that."
As we finished our cup of coffee and our conversation came to a close, I thanked him again for taking the time to share with me his family's experience. As he was leaving, I asked him if he had ever considered pre-arrangement for himself? The shell-shocked look on his face answered the question before he could even respond. "Perhaps that should be our next cup of coffee?" I inquired with a smile.
"Wow!" he exclaimed, still surprised that this had never surfaced on his radar. "I had never even given that a thought! Yes! Most definitely, I need to do this!"
We scheduled an appointment and met again several days later. He gave special attention to the details. "I don't know when my funeral will be, of course," he said, "but I think I'd like to have Christmas songs at the service. I don't care what time of year it is – I want Christmas songs sung at my funeral!" After completing every last detail, he looked at me and said, "I never would have thought about doing this for myself. I can't believe it — even after mom's funeral, it just didn't even register with me that I should do my own pre-planning!"
By taking this step, I reminded him, he had now "paid it forward" for his family . . . just as his mom had done for his family.
When all the paperwork was complete a couple days later, I filed his completed pre-arrangement file. As I closed the drawer of the file cabinet, I thought to myself, "That's a funeral I'll never conduct. I'll be long retired by the time we are involved in his funeral . . ."
Two hours later, one of his sisters called.
The rest of the story follows next month.
Remember Well.
David W. Deuth, CFSP, is a funeral director and is the owner of Weerts Funeral Home in Davenport and RiverBend Cremation and Quad Cities Pet Cremation Bettendorf. He can be reached at 563.424.7055 or by email at Dave@WeertsFH.com.
Filed Under: Family
Trackback URL: https://www.50pluslife.com/2014/07/31/paying-it-forward-with-pre-planning/trackback/