July 31, 2014
PUBLISHER'S CORNER – Fond Memories of Burma-Shave Signs to Brighten Your Day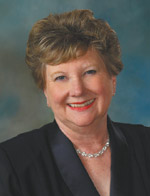 By Dee Deuth
I give great credit for my learning to read as a child to our family vacations in August. Each year in that hot month in the 1940s, my Dad would take his one week annual vacation, and we'd travel in our Ford to great "faraway places," usually about 200 miles from home. (Wow, cars were hot in those days with no air conditioning!) I would be stationed in the back seat with my brothers. As we'd travel, the BIG CONTEST was to see who could be the first to find and read the next BURMA-SHAVE SIGN.
Some of you will remember that these signs were homemade, hand painted signs, 18 x 40 inches, painted bright red with white letters, placed along fence lines with each board containing one or two words to a jingle. The last board viewed would say Burma-Shave. They were the brain child of the Odell family, who had developed a new shaving lather in 1925—Burma-Shave. However, it was hard for them to market the new product with no marketing capital. Allan Odell is credited with the idea of the road signs, and they began to make them on used lumber in 1926. The original signs were placed alongside two roads out of Minneapolis, Minnesota: Highway 65 to Albert Lea and Highway 61 to Red Wing, Minnesota. By January 1927, they were receiving repeat orders from druggists, and the company was on its way to success. Business had skyrocketed from nothing to $68,000 in one year!
One of the early jingles (Verse 10) read:
Your shaving brush
Has had its day
So why not
Shave the modern way
With
Burma-Shave
As time progressed, the jingles changed but were always thought provoking and fun. An anti-billboard sentiment arose in the 1930s, however the small Burma-Shave signs were not attacked. It is told that some safety experts even praised them,
saying that "motorists slowed down to read them." But like all things, there "is a season" and by 1963, the Odells decided Burma-Shave was no longer working, and they sold their company to Phillip Morris.
If you would like to read the complete story of Burma-Shave and the Odell's venture, there is a wonderful book entitled, "Burma-Shave–The Rhymes, the Signs, the Times" by Bill Vossler. This paperback includes history, many pictures and 556 Burma-Shave jingles. Bill Vossler has compiled it into a very historical yet entertaining read. I highly recommend it if you have the same fond memories that I do. It will bring you back to a slower-paced time, a time of clean humor, hard work and travel of the roads that were main highways prior to the interstate system.
One of my favorite jingles for the 50+reader is:
Grandpa knows
It ain't too late
He's gone
To git
Some wider bait.
Burma-Shave (Verse 211)
Or this fun reminder:
Sleep in a chair
Nothing to lose
But a nap
At the wheel
Is a permanent snooze.
Burma-Shave (Verse 264)
Here's hoping you have a wonderful August whether staying home or wherever your travels may take you. Our best wishes to you and our thanks for reading 50+ Lifestyles Magazine.
– Dee Deuth
And a final reminder:
A beard
That's rough
And overgrown
Is better than
A chaperone.
Burma-Shave