July 31, 2014
Tailgates, Sliders and Family Fun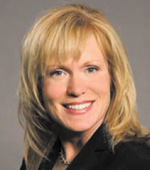 By Dawn Blockinger, R.D., L.D.N.
Hy-Vee Registered Dietician, Moline, IL Hy-Vee store
309.757.1085
E-Mail: dblocklinger@hy-vee.com
Can anyone believe Labor Day is already upon us? For most of us, that means football and tailgates. If you are looking to make your next tailgate or Labor Day party a huge success, try including sliders. Sliders are all the rage right now and with good reason. They come in a variety of tasty flavor combinations, are easy to make, a quick meal solution and portion-controlled fun on a bun. If you are pressed for time on a weekday, you can grill up your favorite sliders and serve with fresh fruit and a tossed salad. A simple, quick, easy dinner the whole family will love.
To make a great slider, all you need is a few ingredients and your imagination. Start with some grilled patties made from ground beef, pork or turkey and add your favorite toppings. Here are a few combinations to try:
• Chipotle cheddar cheese + avocado slices + red onion slices
• Baby Swiss cheese + tomato slices + baby spinach leaves
• Muenster cheese + roasted bell peppers + thin slice of prosciutto
Chipotle cheddar cheese will add a kick to any burger. On a beef burger, Swiss cheese becomes the perfect blend of soft and creamy, gooey and stretch. Or try Emmentaler and Gruyere, also in this family of cheeses, which have amazing tastes and great melting properties. Prosciutto and jarred roasted bell peppers or balsamic-sautéed onions help balance the richness of Muenster cheese.
When serving your sliders, don't forget to include a great side dish or some grilled fruit. Include sliders in your next tailgate, and your favorite home team fans will be cheering for you and the team.
GRILLING INSTRUCTIONS:

When using charcoal, grill our gourmet sliders directly over medium coals for 14 to 18 minutes or until done (160°F), turning once halfway through grilling. For a gas grill, preheat grill. Reduce heat to medium. Place patties on grill rack over heat. Cover and grill as directed.
This information is not intended as medical advice. Please consult a medical professional for individual advice.
For more information contact:
Dawn Blocklinger, RD, LDN
John Deere Road Hy-Vee, Moline, IL 61265
(309) 757-1085
Filed Under: Family, Health & Wellness
Trackback URL: https://www.50pluslife.com/2014/07/31/tailgates-sliders-and-family-fun/trackback/