July 31, 2014
The Emerald Isle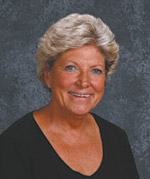 By Mary Schricker Gemberling
The planning for our trip to Ireland and England was finally over. Along with our good friends, Mark and Becky Christy and Roger and Anida Chamlin, Gary and I landed at the Dublin Airport and were greeted by Tony, our driver and guide for our week-long tour of Ireland. We would soon find out that Tony's sharp wit was matched only by his extraordinary knowledge of Irish history
One day was not nearly enough time to see Dublin, home to a third of the Irish Republic's 4.5 million people. On our short drive through the city, we saw picturesque Georgian squares with brightly-painted doorways, cobblestone streets, charming cafes and pubs, massive stone cathedrals and museums, and magnificent gardens. After stops at Trinity College and St. Patrick's Cathedral, our day's quota of historical and literary knowledge was met so we decided to head to the most popular tourist attraction in town, the Guinness Brewery and Storehouse. The story of Guinness is told as the high tech museum winds around to
the top floor where the glassed walled Gravity Bar offers spectacular views of the city and a most refreshing sample of the stout beer.
We left Dublin and drove south through lush green valleys. To the west of us were the Wicklow Mountains and to the east the Irish Sea. On very narrow winding roads, Tony drove (seemingly on the wrong side of the road) through the rugged mountains past rivers and serene valleys to the sixth century monastic ruins at Glendalough. Touring the grounds and ruins certainly gives one a glimpse into the ancient culture and heritage of Ireland. We left and headed south along the coastline listening to Tony impart bits of information and history about each small town. We learned that John F. Kennedy's grandfather farmed in New Ross, until he set sail for America in the late 1840s. And Henry Ford's great grandfather fled the famine in County Cork in 1847. He never forgot his roots; the first factory he built out of America was in Ireland.
We toured the Waterford factory and saw firsthand how the top crystal in the world is made. The old Jameson Distillery in Middleton was another truly Irish experience. We tasted a flight of five of their premium whiskeys and enjoyed some retail therapy in their unique gift shop.
The Heritage Center in Cobh was one of the most interesting parts of our trip. We learned about the ill-fated ships the Titanic and Lusitania and the Great Famine and subsequent migration of the Irish people. From 1848 to 1950, over six million adults and children emigrated from Ireland to escape poverty, crop failures and a lack of opportunity. Many of those landed at Ellis Island and became the Irish roots of which Americans are so proud. On a lighter note, we made our obligatory stop at Blarney Castle to see if we could receive the "gift of gab." Anyone who has been around me knows I already have been blessed with this gift, but I participated anyway.
We drove the "Ring of Kerry," a total of 110 miles of narrow roadways through mystical, unspoiled & awe-inspiring scenery. We learned about the use of Peat as a source of heat and saw how it was cut out of the fields. A sheepherder showed us how he trains his dogs to herd the sheep. We visited the Flying Boat Museum in Foynes where Irish coffee was first created in 1942. We traveled to Limerick, where the saltwater of the Atlantic meets the river Shannon's freshwater (we all wrote Limericks in honor of our visit).
Although 95 percent of the Irish population speaks English, the western coastlines of Ireland are still home to the Gaelic language. Donegal and Galway have passed laws mandating Irish as the sole language for signage. Driving along the west coast, we again viewed some of Ireland's most breathtaking sights. The majestic Cliffs of Mohr rise vertically out of the sea in a wall that stretches over a five mile swath and in some places reach a height of over 710 feet.
No trip to Ireland would be complete without a visit to an authentic, old castle. Bunratty Castle, built in 1460, has been fully restored and decorated with 15th to 17th century furnishings and was an insightful look into the life of those times. The grounds are also home to Durty Nelly's, the oldest pub in Ireland, dating back to 1620. We ate in public houses or pubs throughout Ireland, but Nelly's was probably the most authentic. Molly Darcy's, in Kilarney, was also a lively Irish pub with traditional food along with music, song and dance. My favorite was in Kinsale, a picturesque port south of Cork. There I savored a delicious meal of Bangers and mash. We enjoyed the food throughout Ireland and tried many traditional dishes like Guinness Irish stew, & Shepard pie. What we did not find on any menu was corned beef and cabbage or Rueben's, both American versions of Irish food.
Filed Under: History, Personal Growth
Trackback URL: https://www.50pluslife.com/2014/07/31/the-emerald-isle/trackback/