September 2, 2014
Childhood Trauma is Too Common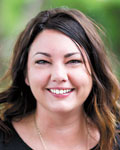 By Angie Kendall
Community Education Program Manager
Child Abuse Council
We all want to be the best parents and caregivers we can be – providing good lives for our children and preparing them for a successful future.
Many of us believe that experiences in childhood can shape a person in adulthood, and the research also supports it. We have learned just how much traumatic stress in early childhood impacts the way a child learns, grows and plays. We also know that trauma in youth has lasting impacts into adulthood. From health problems to disease, disability, social problems and even early death, the connections are undeniable and very real. Check out our newest infographic (at right), which shares what this means and why it matters. For even more information, check out the full infograph on our now what? blog at www.childabuseqc.org.
By knowing more, we can all do more. It truly takes a village to build a strong community, and there is hope – hope that our community can build successful families and raise healthy, happy children. And it begins with you.
Join us online at www.childabuseqc.org to learn more about the Adverse Childhood Experience Study, how to prevent child abuse and build resiliency and join caregivers like you on our now what? blog!
now what? is a project of the prevention team of the Eastern Iowa-Western Illinois Trauma Informed Care Consortium (a partnership with Child Abuse Council and Family Resources, Inc). This project is in partnership with Prevent Child Abuse Iowa through the Community Based Prevention Response to ACES project. now what? was developed after a community assessment of child abuse prevention in the Quad Cities.
The goals of now what? are to:
1. Normalize parents seeking support and help as a manner of child abuse prevention
2. Engage community in how they can work to prevent child abuse
3. Work to build resiliency in families through promotion of the five protective factors
The solution begins with you.
Filed Under: Family, Health & Wellness
Trackback URL: https://www.50pluslife.com/2014/09/02/childhood-trauma-is-too-common/trackback/