September 2, 2014
Getting ready to say goodbye to "old friends."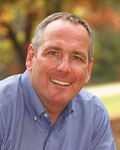 By Dan Dolan
Dan
Dolan Homes
Getting ready to say goodbye to "old friends."
So long gargoyles, metal gates and wood nymphs.
We're going, going, but not gone yet. But it won't be long now, and we'll be packing up our hammers, nails and paint brushes at Stone Gate East and moving on to our next new "senior neighborhood." Fortunately, if you were hoping to become part of the Stone Gate East "family," you still have time to join us. But, not much time.
Some may recall that when we were invited to develop one of the last remaining estate communities in East Davenport, one had to pass through metal gates guarded by statuary borrowed from Dante's Inferno. As one visitor commented, "we had to pass through what seemed like a cemetery entrance to see what was behind the gates." The gates are no more, of course, having given way to friendly stone walls and a delightful pond down the drive a bit. And in between, some three-dozen brick-front homes and green lawns have blossomed into one of the area's most desirable and comfortable senior housing communities.
In designing the optimal senior housing community with valuable insight from our buyers, we have come to understand that a location with access to the amenities of interest to seniors is paramount. The residents at Stone Gate East have told us that the proximity to a hospital (actually two hospitals), medical services, banking, shopping, restaurants and easy access to interstate highways have all contributed to their decision to locate at Stone Gate East. And, so have the unique features incorporated into our homes.
No-step entry from the front and garage entrances have always been important to us. This feature allows residents and their guests who may need (now or later) the use of a walker or wheel chair to navigate the home to have access to the entire space. Likewise, the no-step-entry master shower with several grab bars facilitates the ease of mobility. The wider doorways throughout the home enhance mobility and navigation. The main floor laundry eliminates the need to walk down to the basement. Even the locating of the circuit breaker box in the garage eliminates the need to go into the basement should a breaker need to be reset after a storm.
The insulated concrete 12-inch-thick "Silent Wall" between units, and exclusive to Dan Dolan homes, helps keep our quiet homes quiet. Efficient heating and cooling further add to the quality and cost-effective operation of every Dan Dolan home.
Our homes at Stone Gate East have been selling very briskly in recent weeks as we near the completion of this estate. At the moment, we have four available homes in various stages of completion along with several pre-sold units being built for delivery in early 2015. Additionally, we have four home sites available on which to build your dream home. Projecting this continued level of sales activity, we are likely to be sold out by the end of 2014, with construction to be completed in mid-2015. Homes are priced from $250k to the $350k range, and options include two or three bedrooms, two or three baths, granite, hardwood, three or four-season rooms, no-maintenance decks and more. Much more.
We urge any families who were putting off a possible move to Stone Gate East to give serious thought to taking action now. Stone Gate East is truly a magnificent home location with all the convenience factors one would want. I encourage any interested seniors to visit Stone Gate East soon to see what's available. All new homes at Stone Gate qualify for the Davenport Now tax rebate, and by acting soon, buyers may avoid the next price increase which is sure to be implemented in the coming months.