September 2, 2014
On the Go With Joe Hutter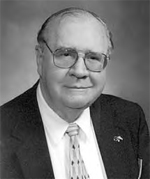 Seniors And Law
Enforcement Together (SALT)
By Joe Hutter
Yes, school has started and another year is going by. With most of us, it goes by faster and faster.
Please remember our children when they are off to school now. When the stop arm and red lights are flashing on a school bus, you have to stop until the children get on or off the bus.
Beware of phone scams. Remember, "If it sounds too good to be true it is." If someone calls you on the phone, and you don't know them, hang up. If they say they are from a business or organization, and they ask for personal information, don't give them any information and hang up on them! If they say they are with a certain charity, write the name of the charity down and call the Better Business Bureau or the Attorney General's Consumer Fraud Line at 1-888-777-4590. There is no cost to you, and this is a toll free number. Call your local police or the Scott County Sheriff's Office at 326-8217. Sheriff Dennis Conard's office will help you. If you live outside of Scott County, call your sheriff, as all law enforcement agencies are there to help YOU.
Seniors can help with Medicare fraud. Medicare fraud costs the Medicare program tens of billions of dollars annually, which should be used to provide seniors with health care, as well as persons with disabilities. If you think your Medicare bills are incorrect, call the Attorney General's Office in Illinois at 1-800-243-0618 or the Attorney General's Office in Iowa at 1-888-777-4590. Both numbers are toll free.
I hope those who attended Senior Day at the Mississippi Valley Fair had a great time. The weather was great all week.
Our Seniors And Law enforcement Together (S.A.L.T.) meetings are held on the fourth Wednesday of the month at 9:30 a.m. at CASI. Stop in. The meetings are open, and we need your input. If you are looking for something to do, stop in at CASI.
Take care.
Filed Under: Community
Trackback URL: https://www.50pluslife.com/2014/09/02/on-the-go-with-joe-hutter-59/trackback/