September 2, 2014
PUBLISHER'S CORNER – The Gift of Grandparents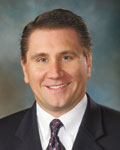 By David W. Deuth, CFSP
President, Weerts Funeral Home
It's September and the kids are back to school. Family calendars are filling up with dates for scrimmages, competitions and concerts. The Friday Night Lights are a certain indicator that autumn is imminent.
As empty nesters for a few years now, Linda and I don't get to the high school football stadium or the basketball court or the auditorium like we did when our kids were involved in all those school activities; we're going to try to make it a point to do some more of that this year.
One of the best and most memorable things for our kids has been that my parents attended nearly every event our kids were involved in throughout middle school and high school. Band. Choir. Cross Country. Track. Drama. Show Choir. Science Fairs. You name it.
Sometimes it was hot outside for those events; other times mighty cold. Sometimes the seats were comfortable, other times there were no seats to be had (or, at best, a stadium bleacher). No matter the circumstance, they were there with us … watching, cheering, supporting, encouraging.
Although my own grandparents have all been gone for some time now, their imprint and impact on my life is also nevertheless certain; indeed, I'm grateful to them and for them. And I know wouldn't be here without them. I'm also grateful for both my parents and my kids – and that they have been able to share so much together. In my line of work, I'm well aware that this is a gift for all of us.
Ask any grandparent and they'll tell you: "If I had known that grandkids would be this much joy, I'd have had them sooner!"
Perhaps it's no coincidence that Grandparent's Day is commemorated in September, as the family calendars start to fill up. Whether your grandparents are living across town, across the globe, or living on in your memories and in your heart … be sure to remember them and give thanks for them.
You wouldn't be here without them.
Remember Well.
Filed Under: Family
Trackback URL: https://www.50pluslife.com/2014/09/02/publishers-corner-the-gift-of-grandparents/trackback/