September 2, 2014
September by the Decades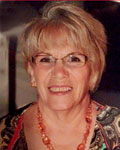 By Eloise Graham
In the year 1954, two hurricanes hit the New England area. The first was Carol, a category 3, on the first day September killing 68 people. The second was Hurricane Edna 1954, battering the North East and killing 20 people. Edna did a double whammy. Edna passed between Nantucket and Martha's Vineyard. As it passed, the eye of the storm split into two sections. One eye went over Cape Cod and the other over Provincetown. That eye moved on up the coast and did the major damage in Maine.
For the golf enthusiasts, on September 2, 1964, Norman Manley scored two consecutive holes-in-one at Del Valley, California. Betsy Rawls won the LPGA Valhalla Golf Open. Other sports news: The first football game at Shea Stadium was on September 12. The Jets defeated Denver 30 to 6. Gillette's 20-year contract with Madison Square Garden and ABC to televise fights for free ended when Dick Tiger defeated Don Fulmer at Cleve Auditorium.
In 1974, the music world saw many songs rise on the charts. "Ain't Nothing Like the Real Thing" by Aretha Franklin, "I'm A Ramblin' Man" by Waylon Jennings, "Live It Up Part 1" by Isley Brothers. "Papa Don't Take No Mess Part 1" by James Brown, "Rock Me Gently" by Andy Kim, all advance in position. "Surfin' USA" by the Beach Boys re-entered the chart and peaked at number 36.
September, 1984 saw some new beginnings in the television industry. The Today Show began live remote telecasts from Moscow. Cyndi Lauper sang "She Bop" on the Tonight Show. "Miami Vice" premiered. It was the first MTV awards hosted by Bette Midler and Dan Aykroyd. "Cosby Show" premiered on NBC.
September, 1994 saw some records being broken. Jingyl Le swam a world record 100m women's freestyle (54.01 sec). San Francisco 49ers Jerry Rice caught the NFL record 127th touchdown pass. Franziska van Almsick swam a female record 200m freestyle (1:56.78). Tom Dolan swam a world record 400m medley (4:12.30).
Times were turbulent in 2004. The Beslan School hostage began when terrorists took hundreds of school children and adults hostage in the Russian town of Beslan. Three days later, the school massacre ended with the deaths of 344 people, mostly teachers and children. Hurricane Ivan hit Grenada, killing 39 and damaging 90 percent of the buildings there. A bomb exploded outside the Australian Embassy in Jakarta, killing 10 people. All 17 passengers were killed when a helicopter crashed into the Aegean Sea. In Haiti, flooding due to Hurricane Jeanne killed an estimated 1070 people.
What does September 2014 have in store for us?
Filed Under: History
Trackback URL: https://www.50pluslife.com/2014/09/02/september-by-the-decades/trackback/