September 30, 2014
Hearing the Din at Dinner – Restaurant Noise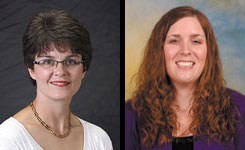 By Dr. Molly Parker
Audiologist and Owner
Parker Audiology, P.C.
& Dr. Alison Soto
Audiologist
Parker Audiology, P.C.
As many people can identify with, restaurant noise is the single biggest complaint in the dining experience. According to one Zagat survey, noise in restaurants is the second largest complaint among customers. According to the LA Times (June 8, 2012), Yelp has begun to take notice by allowing a rating for noise at dining establishments.
Among those with hearing loss, noise can ruin their dining experience. Hearing aid technology has become very sophisticated at analyzing noise, types of noise, directionality of noise, and even predicting whether the noise will be speech or not. Additionally some technologies have become an extension of the Iphone technology. According to one patient, "I take my iPhone everywhere, which talks to my hearing aids. It has effectively cut through the background noise so I can hear at the other end of the table." There are several technologies that exist to bring speech in closer to you; some are more seamless than others. Each person presents with their own set of expectations and challenges.
This fall presents some brand new technologies. After a recent release of new hearing aid technology, newly revealed in Las Vegas, Dr. Soto states, "The new products are really exciting! We can really focus on that one person you are really trying to enjoy. Technology can provide many options for you that are far less work on the other person's part." Dr. Parker agrees, "We are also finding out that the type of microphone that your technology uses goes a long way to more stable sound quality, better directionality in noise, and improved reliability to moisture, and overall a more durable product."
After talking about these changes with a patient named Dennis, his comment was, "That would be truly wonderful if I did not have to hear as much of the racket at restaurants. I could finally talk to my wife."
Call for an appointment today for your opportunity to try some of this exciting new technology. This October, Parker Audiology, PC is offering a chance for your own personalized hearing experience. Take it for a test drive and see for yourself!
Parker Audiology, P.C is locally owned and operated. Call Dr. Alison Soto or Dr. Molly Parker today for an appointment at (563) 326-5441.
Filed Under: Health & Wellness
Trackback URL: https://www.50pluslife.com/2014/09/30/hearing-the-din-at-dinner-restaurant-noise/trackback/